Planning  Florida vacations are always a lot of fun. Romantic getaways or taking the whole family, South Florida is the perfect destination. Experience stunning beaches, great places to eat, vibrant nightlife, and terrific activities for the entire family.
Miami and The Keys are cultures unto themselves. The "Miami Accent," a dialect unique to South Florida, was born in Miami several decades ago. The heavy influence of American and Latin English make up this beautiful accent.
What to Do in Miami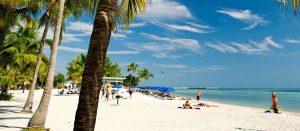 Head to the beach. Up and down the coast, you find every type of hotel imaginable in every price range. Miami Beach is a magnificent stretch of one hotel after another. For decades, hotels like the Fontainebleau have been a Miami Beach landmark.
Book reservations early on heavily traveled holidays. South beach fills up quickly on spring break and summer months are always busy.
The Miami Beach Botanical Garden needs to be one of your first destinations. The Garden is a peaceful retreat in a city of relentless action. Extensive collections of modern art at the Bass Museum of Art is an eight-minute walk from the beach. Both attractions are close to great Beach hotels and restaurants.
The Miami Art Deco District is known the world over for its colorful, unique architecture. No trip to Miami is complete without a trip to this National Register of Historic Places landmark.
Getting around Miami is easy using the Miami-Dade Transit system. Buses and the MetroRail run 365 days a year and go everywhere that is fun to go.
Florida Keys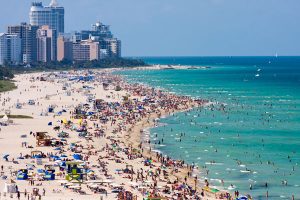 Jimmy Buffett, here we come. In November of 1971, Key West was the final stop for Buffett and his friends. He sang for beer in the Chart Room Bar (still there), fleeing Nashville's weather and business climate. Experience the rich tapestry of history all along this 120-mile stretch of islands.
If you love the water, the Florida Keys should be your destination of choice. Abundant snorkeling, scuba diving, and sport fishing charters exist all along the Keys. Dive into one of the many shipwrecks to find your fortune. Make your vacation relaxing or action-packed.
The Glades
The Everglades National Park is a breathtaking 1.5 million-acre wetland preserve on the southern tip of Florida. The Everglades is a vast network of forests and marshes fed by the Kissimmee River from Lake Okeechobee.
Your entire vacation could be spent exploring the Everglades. If possible, make your trip during the dry season months, November to March. The wet season from April to November typically is filled with bugs, and many of the ranger programs are not offered. The fragile eco-system is home to an amazing mix of protected species. It is essential to be prepared; there is a lot to see and do in the Glades.
When it is time to say goodbye, memories never go away. Consider yourself lucky for this treasured vacation to South Florida. Remember to put that one thrilling attraction, island beach, or shipwrecked fortune you missed on the schedule for next time.