Many people might have the mindset that concrete surfaces are relatively impervious to staining and deterioration. The material is highly porous and can easily stain if not adequately cared for.
Concrete slabs, decorative designs, and all concrete are susceptible to a vast array of damages, including eroding from harmful chemicals, water-related issues, and staining from oil, grease, and other substances. When maintenance is neglected, the end result can impact the surrounding curb appeal.
For those with concrete patios Tampa, Florida weather can sometimes be harsh due to increasing temperatures. The key to achieving curb appeal is to participate in preventive and routine maintenance to prevent problems from occurring and correct defects as they arise.
This will ultimately save you time and money down the road. Let's look at concrete patio maintenance more in-depth.
How Do You Care For Concrete Patios In Tampa, Florida
When living in Tampa, the concrete patio is the gathering place for social events, relaxing on the weekends, and barbecues. Everyone wants to be outside in a tropical climate. While you might believe concrete is a sort of "lay it and forget it" material, that's not the case.
Maintenance with these patios is just as important, if not more so, than any other surface for optimum curb appeal. In fact, there are a couple of types of care plans to include, such as preventive and corrective or routine maintenance. Consider how each of these adds to the integrity of the patio.
Preventive maintenance of your concrete patio
Preventive maintenance is performed in an effort to prevent problems from happening and ultimately save time and costs in the long run. One of the methods for doing that is using a concrete sealer for the flooring. With this protective coating, the surface can avoid eroding and staining.
The suggestion is that this process be an annual task, but if you live in a cooler climate, you would need to consider resealing perhaps twice or even more, considering the conditions. Consider pouring a concrete patio correctly with a few simple tips.
When a property owner implements routine care and upkeep, it extends the steps taken with preventive maintenance to achieve an extended lifespan; The patio should be kept clean with damage avoided despite sealer being applied on the surface. That would involve pressure washing.
This can eliminate unsightly dirt and sand and clean the stains that might occur. Keeping the surface free of harmful debris, stains, and grime will prevent the potential for eroding the surface and damaging the structural integrity.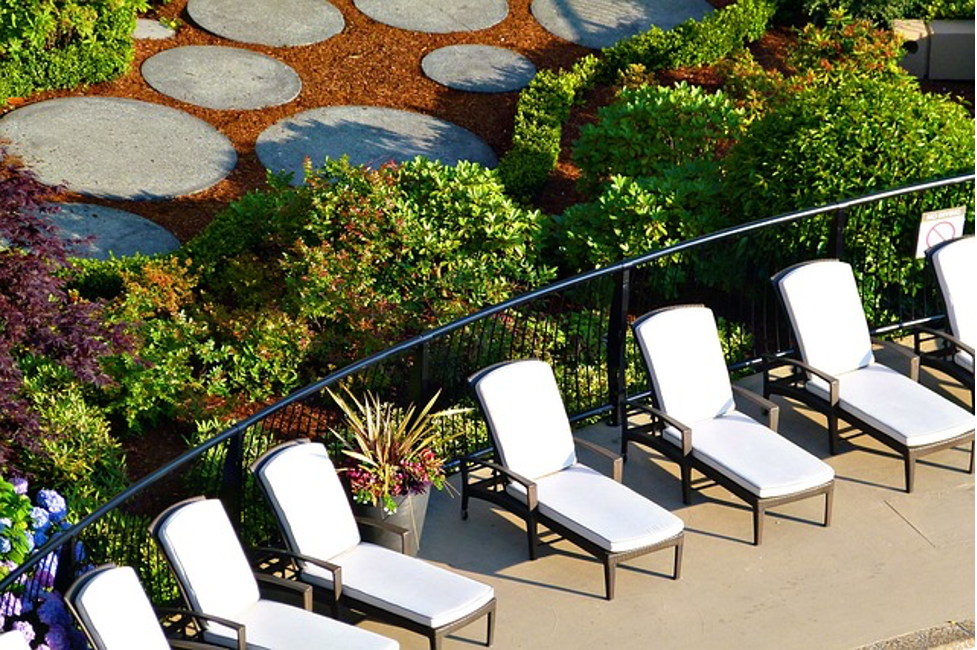 When defects or damages occur, corrective maintenance means taking care of these issues as they arise. If a sudden crack or a stain needs to be repaired immediately, these corrections fall under this maintenance type. With cracks, maintenance techs will typically advise the use of crack filler.
Still, the slightest hairline fracture can be expensive and time-intensive to fix. Also, if you're dealing with an accumulation of stains from over the years, these will drastically detract from your curb appeal.
They make prioritizing preventive and routine maintenance crucial. It helps to reduce the time, effort, and cost of corrective care.
The reason concrete patios are prone to staining is due to the exceptionally porous nature of the material. That means that it will readily absorb substances making it susceptible to staining.
The sealer applied with preventive maintenance boasts of protecting the surface along with routine pressure washing. But when neglected, debris, spills, and grime can accumulate, creating permanent stains that are virtually impossible to remove.
This is a reason to stay on top of your concrete patio care. Click for details on how to restore a faded-coloured concrete surface.
Final Thought
Whether you're a Tampa business or a residence, dirty concrete patios are usually the first thing a visitor notices. While you want to be the one to form the first impression, the state of your surroundings will actually create that long before the person even meets you.
Exterior concrete surfaces that are maintained, clean, and stain-free give an inviting, welcoming appeal. And since many people prefer to be outside in the lovely Tampa weather, you want to maintain the patios and outdoor spaces in such a way that guests wish to return.