Corporate relocation is quite different from a residential move. It should be within a time frame or else it can disrupt business goals. Commercial relocations in Texas can be extremely hectic and tiresome but thanks to Texas commercial relations services. No matter how big or small a company is, commercial movers will execute the task in an organized way. They will ensure all the aspects from relocation to installation so that the employees can continue their daily tasks with peace of mind. Whether the move is local, long-distance, or even international, commercial movers will make the move smooth and efficient.
Types of commercial moves
1. Office moves:
There are thousands of office moves every month and most of them rely on the trusted commercial mover for the job. The moving professionals coordinate with the team making sure to run the office work with no interruption.
2. Laboratory relocation:
Medical facility and lab moves are common and relocating the entire lab to a different place can be risky. The proper packing of the lab material is important to prevent damage or breakage. This is why commercial movers are trusted for providing effective services meeting specific customer requirements.
3. Heavy machinery moves:
The machinery moving teams can easily execute the relocation of any heavy machinery, from breweries to aerospace. They use different specialized types of equipment like pallet jacks, tri-lifters, cranes, air skates, etc. so that the machinery can be moved smoothly.
4. Warehouse moves:
Relocating a complete warehouse surely needs some pre-planning and experience to make sure the job is done smoothly. Warehouse commercial relocations can be completed in an organized way with the help of commercial movers. They can transport heavy equipment of any size.
5. Schools and Universities:
The move of an educational institution like a school or university is not an easy task. Always rely on a trusted and experienced moving company that can relocate administrative offices, labs, libraries, and all other important areas without any hassle.
Why hire a professional moving company?
Any company that is planning to relocate should consider numerous benefits of hiring a professional moving company. Starting from pre-planning and packing to unpacking and settling, a moving company can make all the difference in the moving experience. Here are some reasons to hire professional movers –
1. Reliability:
Assigning the complete moving duty to a professional can give a smooth and stress-free moving experience.  The professionals know the best way to handle the belongings and deliver them safely without any damage.
2. Quick service:
A moving company provides its clients with a particular date and time. Moving the material without the help of a professional surely takes time and creates uncertainty about the completion date. This is why to frame the work within a time limit, it's always better to hire a professional moving company.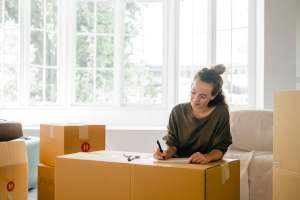 3. Safety:
There can be different types of materials in a commercial space, starting from packing to delivering. The experts understand that lifting, loading, and handling any item can be tricky and they know the safety measures.
4. Free Estimate:
Getting a free estimate can be budget-friendly. The moving companies offer a free estimate so that their clients never mess up with their finances and get a clear and straightforward package idea. Purchasing all the materials like boxes, tape, bubble wrap, and cornering can be costly. This is why hiring a moving company is a cost-effective way for commercial relocations.
Things to consider before hiring a moving company
1. Years in business:
Needless to say, the more working years, the more experience in the particular field. Choose a mover who has an excellent track record over many years.
2. Customer review:
Commercial relocations come with a huge responsibility. Before hiring any movers consider checking if they have insurance, license, and a verified DOT number. Make sure that the belongings are in a safe hand.
3. Reputation:
Reviewing a company's reputation is very important. One can easily check the background of a company by asking the friend, family, or any reading online reviews.
Conclusion
Office moves or commercial facility moves should always be performed by experienced and trained persons who can handle the valuable and important equipment. Choose a well-reputed and professional moving company that guarantees value-added services. Getting a reliable moving company in Texas is not a tough task. Just do some online research and then hire a mover for the job.