A good workbench is an essential part of any workshop or engineering site. They can be pricey, but if you choose the right one for your needs, and you source it from a trusted supplier who uses the best materials and construction techniques, it should last you a lifetime.
Here's our guide to what engineers should look out for when selecting a new workbench.
Size
The size of your bench really depends on the space you have available and the type of work that you are carrying out. Smaller, more delicate work will not need a huge work surface, whereas if you are using vices, clamps, and power tools you'll want to consider a bigger unit. Make sure that you still have room in your workshop to maneuver and store/organize any tools and paperwork.
Materials
The materials used in the construction of your workbench will dictate how much weight the surface can withstand and also how much cleaning and maintenance you'll have to do. If you typically work with heavier items or need to exert pressure on the surface/workpiece, you'll need a heavy-duty model with a steel frame, legs and supports. Some heavy-duty workbenches can support 1200kg (evenly distributed), which is more than enough for most engineers. If the nature of your work is a little lighter, you can save some money by getting a less heavy-duty model.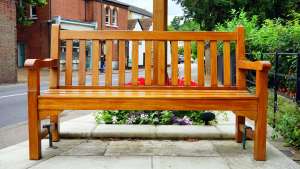 Surfaces are usually either solid wood or laminate. Both are relatively easy to keep clean; the key difference comes in scarring/marking. A solid wood surface can be lightly sanded and treated to remove imperfections, whereas laminate cannot.
Height
Will you be working at your bench standing or sitting – or a mix of both? Get the bench that suits your work style the best – remember that the more comfortable you are at the bench, the more productive you will be and the less susceptible to aches, strains, and other ailments. For people who like to vary between standing and sitting, height-adjustable workbenches are an absolute must.
Mobility
If you need to move your workbench for any reason, you will definitely want a model that is securely mounted to locking castors. Industrial benches can be very weighty, and any mobility requirements can be made significantly easier with a workbench that has wheels.
Electronics
Working with delicate electronics, computer components, or other items that are easily damaged by the static electricity? Get a bench that has electro-static discharge (ESD) built-in. These benches will be manufactured from materials that do not allow for the build-up of static and are often also equipped with an earthing point to further minimize the risks.