A real British classic, the Henry Hoover is a workhorse that has been delivering fantastic cleaning performance over the years. Henry's smiley face is instantly recognizable and is a friendly cleaning companion in many homes. Henry Hoover's range of easy-to-use vacuums has only grown to include James, Harry, Hetty, and George, to name a few.
Whatever your needs are, you can find a Henry vacuum cleaner best price with B&Q, for the different models available. Clean dust, dirt, pet hair, wet spillages, and more with the brand's cleaners having characteristics you will not find anywhere.
1. Built to Last
This vacuum cleaner is used for commercial and janitorial cleaning. Also, it is highly durable and tough. Once you own a Henry, you will be using it for 10 to 20 years before replacing it. The replacement accessories are also readily available and priced reasonably, allowing you to use the vacuum for years without much maintenance.
Compared to other conventional vacuums, Henry vacuum cleaner uses the latest technology even though the cheeky smile of the cleaners remains the same. These cleaners deliver an impressive performance owing to the two large TwinFlo motors. It picks up dirt, dust, and pet dander easily and with a quiet operation. The latest models come with more suction power and also provide an added benefit of energy savings.
2. Large Capacity Dust Bags
While other vacuum cleaners are moving towards bagless vacuums, Henry vacuum cleaners are sticking to bagged versions. The bucket-shaped vacuum cleaner is equipped with large capacity dust bags five times larger than a bagless vacuum. This is a vacuum that does not require emptying frequently.
Some of the models also come with a self-sealing feature that locks all the dust while emptying the bag. All the mess stays inside with no dust escaping back into the air. This feature is quite useful for people with allergies.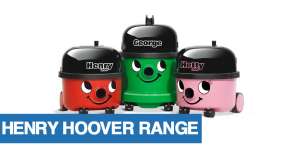 3. Trouble-free Extra-long Power Cords
A 10-meter power cord makes this vacuum cleaner a great cleaning tool. Clean everywhere without unplugging and relocating to a new socket. You can go from stairs to the floor effortlessly, reducing the time and effort to clean your surface areas quickly. This extra-long cable also gives you the flexibility to easily manoeuvre hard to reach places.  It also comes with the cable rewind function, which is essential for many people as it makes it convenient for easy storage once you are done with the cleaning.
4. Pet-Friendly Features
Henry Hoover is ideal for pet lovers as it has two pet-friendly features excelling at tackling pet hair and removing pet odour. The unique HairoBrush is designed to pick up stubborn pet hair from carpets and upholstery. MicroFresh activated charcoal filter helps eradicate pet odour from the dust bag while using the cleaner.
Remove those unpleasant smells hanging around your home that especially come when picking up pet hairs. The activated charcoal in the filter neutralizes the smell giving you an odour free home. These two features make it a vacuum of choice for pet lovers.
5. Affordable
In terms of affordability, Henry is ahead of its competitors. The range of Henry Hoover is very affordable and turn out to be very economical vacuum cleaners as they are renowned for lasting many years. Even the replacement accessories are priced quite reasonably and are easily available. Get your Henry vacuum cleaners for the best price with B & Q for a great cleaning job.
Bring this faithful cleaning companion home that offers a fuss-free cleaning experience. Delivering power, reliability, and longevity, they are perfect for those looking to clean their homes on a budget.