The world getting digitalized fastly and the people are using the internet for everything. Whether it's online shopping, paying bills, planning holidays, book the hotels and travels, purchasing the grocery, books, etc. In this Digital Era, you find your career as almost every sector and industry requires digital marketer. However, why we are talking about a digital marketing internship then?
Digital Marketing is the field where are the most number of jobs available but every company or sector needs an expert in that field. That's why every student makes a career in digital marketing.
On the internet, I see so many experts teach about digital marketing skills, I am following so many experts, but everyone gives paid internship program that time I don't have investment to join paid internship, then one of my friends suggested me to join free digital marketing course by digital Deepak. That time I am very confused because no one gives the free internship and teaches you the new skills in the free. But I am decided to join a free digital marketing course by digital Deepak, there I am clear my points and doubts and achieve digital marketing certification.
I am following Deepak sir for the last 2 years and I am seeing now he introduced 3 months paid digital marketing internship program by Digital Deepak. I am very excited to join and learn new things.
The first class starts on 18th December 2019. In the class the first topic about self-improvement. There I have learned 4 major keys about improving communication skills:
Watching Movies in English is an awesome way of improving your English.
Read Regularly.
Listening to podcasts.
Expand Your Vocabulary to express yourself clearly.
Then we move forward towards digital marketing techniques and skills: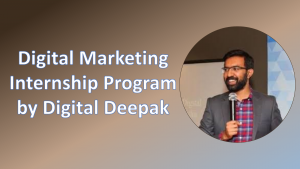 In the Digital Marketing field, writing is the main factor to show your skills.
One of the best writing tips is written every day. You need to practice writing to become a better writer.
If you are new in Internet marketing, most the people fail to find niche for website or business.
Before you get into any kind of research, you first clearly your goal and identify your interests and passions.
There are so many free and paid keyword research tools available in the market. Eg. Ahrefs, Keywordtool.io, ubersuggest, google keyword planner, Moz, Search Console, etc.
Ahref is the paid tool but it is the best platform for finding long-tail keyword and search volume of that keyword.
You can also do research about your competitors with the help of these tools what they are doing and get new ideas about keyword.
This Program Focuses on various Digital Marketing skills:-
Content marketing.
Search Engine Optimization (SEO)
Social Media Marketing (SEM)
Email Marketing
Paid Advertising.
This program is very helpful for learning new strategies and skills And earn through completing the assignment. The best part is to work on live projects. Then Don't worry about whatever you invested for this program.
After completing this program you have enough knowledge to start your own business, your company and your own Website.