What do you actually want to eat tonight? Our choices are usually guided by grocery lists, diet plans, and the contents of our refrigerators — but when we're given the freedom of total choice, it can be a monumental challenge to decide what to cook. Especially when you're feeding friends and family, too.
Suddenly, you're not just having to appeal to your own tastes, but those of each diner joining you. Unless a guest arrives with takeout and a large bottle of wine, the stress will get to you before the hunger does.
So, when you've covered starters and mains, what dessert do you prepare to make it a night to remember? There are plenty of crowd-pleasing puds that will finish your dinner party with a bang — here are our top three choices.
1. Tiramisù
We'll start as we mean to go on, and that's with a delicious treat sure to please any sweet tooth. Nowadays, we know the decadent tiramisù as a quintessential fine-dining dessert found on menus the world over — but it has its humble roots in Italy.
Much like tomatoes, basil or mozzarella, coffee is one of those ingredients that finds its way into many a classic Italian dish. The experts from Pasta Evangelists explain that "Italy's love affair with coffee has a long history, dating back to 16th century Venice. Italy, the origin of espresso, has a whole culture and way of life centred around these amazing beans. Thus, the tiramisù was born — and here's how to get it right.
Ingredients
Serves 4
250g mascarpone cheese
200g sponge fingers
40g dark chocolate, grated
400ml double cream
60ml marsala wine
5 tbsp golden caster sugar
1tbsp instant coffee granules
2tbsp cocoa powder
Method
Start by making the coffee by combining instant granules with 250ml of boiling water. Stir and allow to cool.
Once cooled, soak each of the whole sponge fingers in coffee and layer half of them into a shallow dish.
Whisk together the double cream, mascarpone, marsala and caster sugar until combined with a thick, whipped consistency. Spread half of the mix over the first layer of sponge fingers and top with half of the grated chocolate.
Repeat the layers once more with the second half of the sponge fingers, the last of the cream mix, and another grating of chocolate.
Overnight in the refrigerator, cover and chill. Dust the dish with cocoa powder when you're ready to serve.
2. Lemon meringue pie
There's no denying that coffee is an instant crowd-pleaser — but if you're preparing a sun-kissed summer dessert, your guests might be after a fruitier flavour. So, whether you're hosting a BBQ, or garden party, or you just happen to live in the middle of a citrus orchard, then this lemon meringue pie could be just the ticket.
However, the sheer mention of the word 'meringue' may well cast fear into your hearts — and we get it. There are plenty of common mistakes that fledgling chefs make when trying to perfect their peaks. The Spruce Eats explains that beating your egg whites for too long, removing all the air, or baking on too low heat can all ruin your fluffy white meringues. With that in mind, pay attention — here's what we recommend.
Ingredients
Serves 6-8
Pie crust
200g plain flour
100g unsalted butter, diced
25g icing sugar
Lemon filling
350g lemon curd
100g white chocolate
75g butter
50ml limoncello
Meringue
250g caster sugar
4 egg whites
2tsp cornflour
1/2tsp vanilla extract
Method
Start by preparing the pie crust. Rub the butter into the flour and icing sugar, then add 2 tablespoons of water. Combine into a dough, adding more water if necessary. Flatten into a disc, wrap, and chill in the fridge for an hour.
On a floured surface, roll the pastry flat and press into a tin, trimming any excess. Bake the pie crust at 180°C for 15-20 minutes, until crisp and golden. Remove and cool on a wire rack.
Over low heat, mix the lemon curd, remaining butter, and chocolate until combined. Remove from the heat and stir in the limoncello.
Pour the mix into the pie crust and make a level surface using the back of a spoon, then place the pie in the fridge.
Using a large mixing bowl, gradually whisk the egg whites, starting slowly and increasing the speed until stiff peaks form. Then, add cornflour, vanilla extract and caster sugar just one small spoonful at a time, mixing as you go. Once all of the sugar is added, you should be left with shiny, stiff peaks. Spoon the meringue on top of your cooled lemon filling.
Bake the pie at 180°C for another 15-20 minutes, until the meringue is set and the peaks are just starting to brown. Serve once cooled.
3. Margarita trifle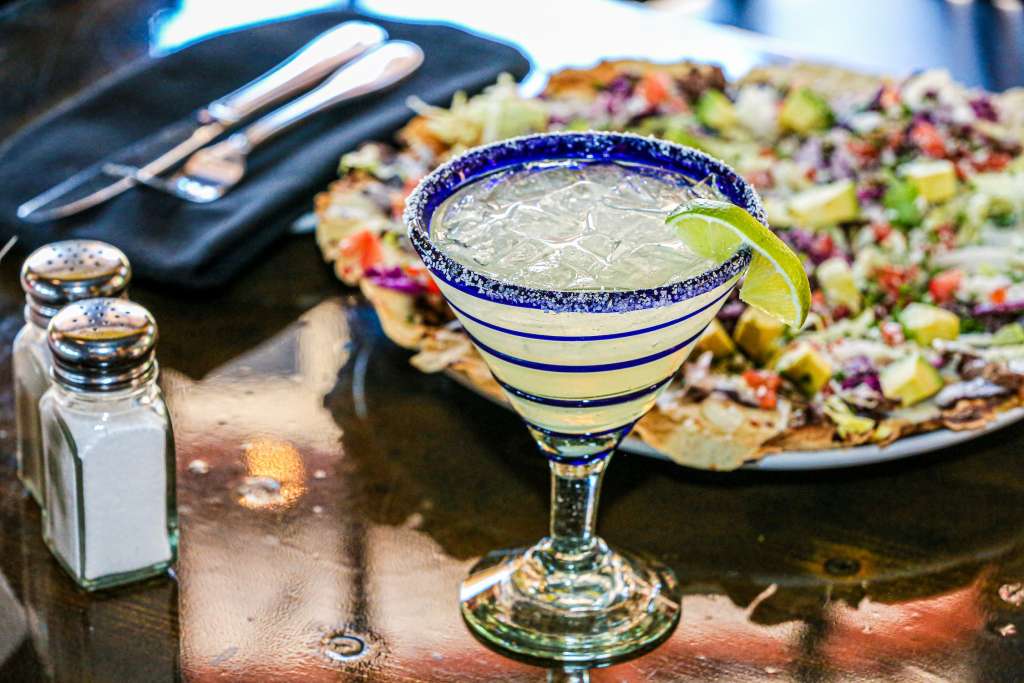 Even if you're no star baker, there's one flavour that everybody enjoys — and that's the taste of nostalgia. The Great British trifle is a dinner party staple that whisks us all back to fond memories of our childhood, but it's even better with a grown-up update — so why not add a little booze?
There are plenty of wines or liqueurs that go well with a classic trifle recipe. Some opt for a classic sherry, while others prefer sparkling Aperol spritz. Here, we've pushed the envelope that little bit further and gone with a sharp and salty fusion inspired by the margarita cocktail. Your traditional margarita includes tequila, orange liqueur and lime juice — so this tangy pud is bursting with flavour and not for the faint of heart. Here's how it's done.
Ingredients
Serves 8-10
500g tub of fresh custard
250g Madeira cake, sliced
50g icing sugar
500ml double cream
75ml Cointreau
75ml tequila
2 limes
3 115g orange jelly pots
2tbsp agave syrup
Sea salt
Method
Over low heat, melt the jelly pots and stir together with the Cointreau. Remove from heat and set aside.
Add the zest and juice of one lime to the custard. Stir through and refrigerate.
Slice and slightly squeeze the second lime, running it around the edge of your trifle dish. Using a shallow plate of salt, dip the dish to create a salt rim that sticks to the lime juice.
Place your Madeira cake slices into the bottom of the dish, and pour the slightly cooled jelly over the top. Place in the fridge for an hour to set the jelly.
Once set, spoon the custard on top of the jelly, making an even layer.
Whisk the double cream, icing sugar and tequila together until it makes a thick whipped cream. Layer on top of the custard.
Drizzle the top of your trifle with the agave syrup and grate the remaining lime's zest over the top. Sprinkle with sea salt and serve.