Hair styles are not just ways to arrange your hair but are more of a reflection of your taste and personality. Throughout the years, men's and women's hairstyles have constantly kept changing. The current fashion and trends influence hairstyles to a great extent in every generation. Nowadays, the shaved-sides hairstyle for men is back in vogue. This is an incredibly versatile hairstyle which has been derived from the classic 'short on sides, long on top' design. Hair experts also suggest this trending hairstyle for those suffering from receding hairline, as it helps to take the spotlight away from the large forehead.
Some of the most popular and latest men's shaved sides hairstyle include the man bun, pompadour, modern comb over and slicked back. For a more simplistic and low-maintenance hair style, you can also choose to shave all around, or get a buzz cut, and show a different aspect of your personality.
A great hair design is one of the best ways to express your style preference and confidence. There is an immense plethora of options for men when it comes to choosing shaved sides hairstyles. Although there are hundreds of shaved sides hairstyle design for men, now you can make it more unique and personal by adding a small, shaved designs on the sides.
If you are wondering whether such a hairstyle would be acceptable under your employer's dress code or would be considered a norm violation, then rest assured because a clean shaved head portrays a noticeably confident, masculine and dominant look. In addition, the shaved sides hairstyle is ideal for those men who have little time to groom themselves but can carry an exquisite look with these amazing shaved sides hairstyle designs for men.
20 Awesome Shaved Sides Hair Styles for Men
Check out the list of the top 20 awesome shaved sides hairstyle for men, picked by our leading hairstylists:
1. Bird Hair Design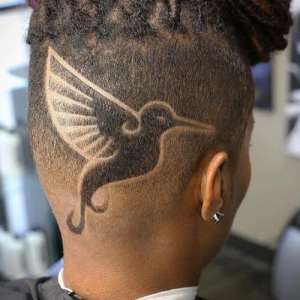 This is an incredibly bold look as it is an unusual and unique haircut. A bird design is intricate and immediately attracts attention. It is also a great conversation starter and the best thing is that it is completely unique and no one around the world can have the same bird hair design (unless inspired by the other).
2. Bad Bunny Hair Design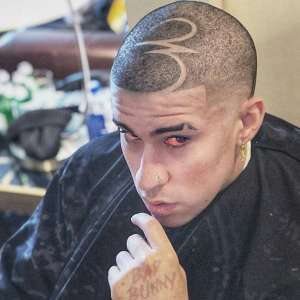 Bad Bunny, the popular Puerto Rican rapper, is known to experiment heavily with his hair – sometimes wearing long and dyeing it in bold, vivid colors to cropping it short and shaving bold patterns into it. To get a Bad Bunny design, you simply need a skin fade buzz cut and spice it up with a unique and abstract design.
3. Lightning and Star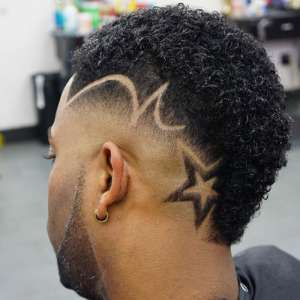 This hairstyle has one of the coolest line-up designs which is very prominent – a bold lightning slash with a star low on the back. This hairstyle is full of flair and oozes attitude which makes it a perfect hairstyle choice for bold, confident men who like the attention.
4. Geometric Design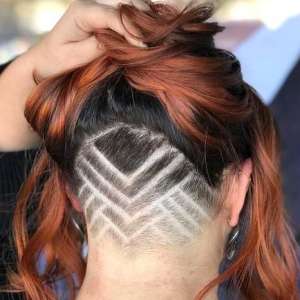 The geometric hair designs consist of straight lines with angled shapes that come together and create a bold and attention-grabbing pattern.
5. Diamond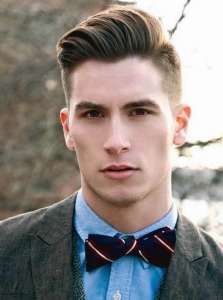 Diamonds are rare and signify wealth and success. The diamond hair design is simple, yet effective in catching attention with its recognizable geometric pattern.
6. Rose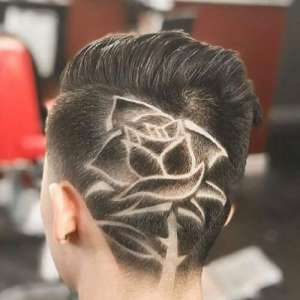 Similar to the bird, the rose hair design is complex and intricate. An expert barber can help to create stunning 3-D rose design which stands out noticeably.
7. Nike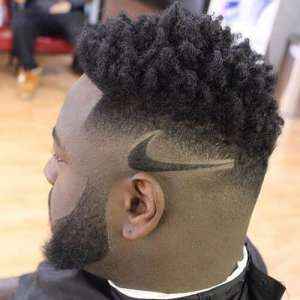 If you are brand loyal, then why not show off your loyalty with the classic tick of the globally popular athletic brand?
8. Minimal 'V'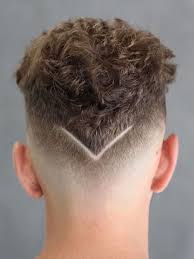 A minimal 'V' hair design is simple yet cool. The sharp-cut and bold 'V' represents your masculinity and grabs attention everywhere you go.
9. Staircase Design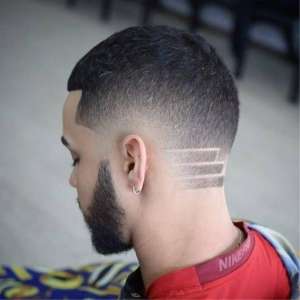 Staircase hair design consists of the geometric 'step' effect with lines running at right angles to each other. This is another simple yet effective hairstyle that attracts others.
10. Lightning Bolt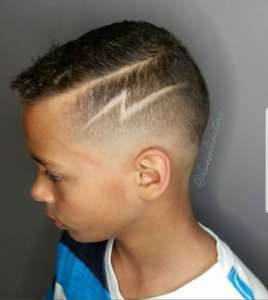 A lightning bolt hair design has sharp angles and jagged lines that create an incredibly unique effect, especially when you bleach the remaining hair on top. The contrasting aspects make this hairstyle incredibly attractive.
11. Complex Abstract Design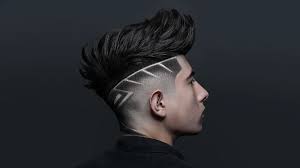 A complex geometric shaved side hairstyle is truly unique. Plus, you can keep your hair cropped short while showcasing your taste with intricate geometric patterns.
12. 3-D Effect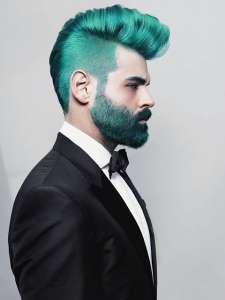 There are only a few hair cuts that compare to the 3-D effect hair style. These complex designs offer numerous choices which helps to make the haircut truly unique and attractive.
13. Three Stripes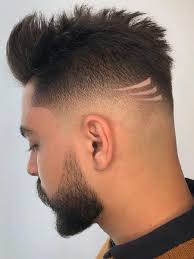 The three stripes hair design is understated yet stylish. It can combine with almost any hairstyle and customize according to length of hair.
14. Greek Decals Design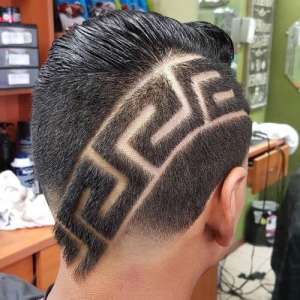 Greek decals are iconic patterns with a geometric shape which can be easily aligned with the lines of your haircut and add personality to your hair.
15. Cool Stars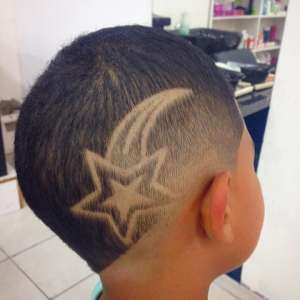 This hairstyle has stars dominating the shaved sides and the top (if you prefer a buzz cut). You can add incredibly vast details to the stars and make your hairstyle truly unique.
16. Double Stripe with Eyebrow Slit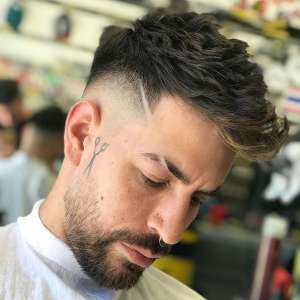 Double stripe designs may be common but when they are combined with a matching strip on your eyebrow, it makes for the coolest hair cut.
17. Imitation Braids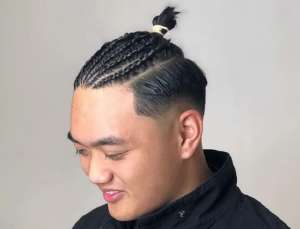 This is a cool hair cut for those who prefer a buzz cut but want to have braids. The barber cuts vine-line patterns into your crew cut to mimic the design of actual braids.
18. Simple Design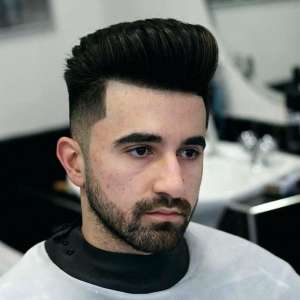 For the professionals who want to be stylish, why not keep your hairline straight and sharp but shave a smooth line at the sides that matches your fade?
19. Ghost Design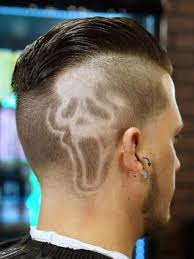 This is perfect for Halloween. The iconic ghost mask from the 'Scream' movie franchise always attracts.
20. Cube Design with Man Bun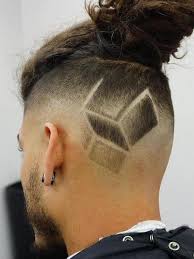 Similar to the 3-D effect, the cube hair design is bold and goes perfectly along with a man bun.
Choose any of these awesome designs shaved into hair and get ready to stand out from the crowd.