Taking the Olympiad exam is a modern outlook as it offers many advantages not only in terms of building an academic profile but also in promoting critical and analytical thinking in young students. Numerous Olympiad exams are held throughout the year. These tests are carried out by various organizations both nationally and internationally.  
When you have decided that your child should participate in the SOF Olympics, the next question is how to begin preparations. As a beginner, you need a real and honest guide to get started, because having the right guide at the right time makes all the difference. If you direct your efforts in the right direction, getting a good ranking and score in the Olympics will be a breeze. Choosing the right direction involves simple but crucial steps like registering correctly for the exam, knowing the exam pattern, and then getting the best books needed to practice for the exams. 
So, let's start with some very important tips.

 
1. Be thorough with your syllabus  
Be good friends with your syllabus first and only then move ahead. This will help students to know all the topics and accordingly, they can set deadlines for each topic. This way students won't have to stress from the start and prepare smoothly for the same.  
2. Know the pattern and weightage  
It is recommended to have a very clear idea about the pattern and what type of questions are asked most frequently; students should know all the important topics and subtopics which have the maximum weightage. It is an objective test with 35 multiple-choice questions for grades 1-4 and 50 multiple-choice questions for grades 5-12 with a time limit of 60 minutes. 
3. Plan it out 
Now, that you know what you need to start the preparation; you are only one step behind to kickstart your preparation, which is planning. Planning what and when to study with regular refreshing breaks and maintaining other tasks in day-to-day life is a big deal. A detailed and proper timetable will help students to give equal attention to hard and easy topics and scoring topics. 
4. Understand the level of questions asked 
Olympiad and School syllabus are identical, but students should know the differences and difficulty level of the Olympiad exams. These exams test more than just memory; they test analytical skills, observational skills, problem-solving and overall understanding of the given topic. So, to be ready and face these problems, students need to be very thorough with the difficulty level and pattern of the exam.  
5. Develop a deeper understanding of the topic 
Online books are specifically designed to provide a good understanding of the concepts and facts necessary to solve Olympiad-level questions. 
Refer below to the IMO sample paper 1 with answers for class 10th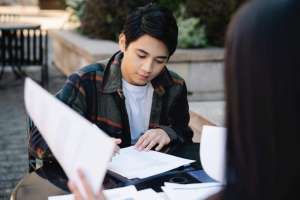 6. Solving previous year questions 
Solving previous year's questions is a must. PYQ's help students a lot with practice. It will help students to know your weak and strong points. It creates exam like environment for students to get familiar with the exam and the type of questions asked. These papers will assess students' knowledge and skills.  
7. Give mock tests 
Giving mock tests/enrolling for online test series will benefit students more than they can imagine. It will also test students speed per question, so they can divide their time accordingly in the exam hall.  
8. Make your notes 
This step is highly recommended. Preparing your notes while learning the topic will help you during revision and it is a very effective method to memorize for many students. The Olympiad tests are based on the school's curriculum, students are required to take notes and brief facts on each topic explained in class. These quick facts are very useful for future reference and review, helping you learn faster. 
9. Be patient and calm 
The entire learning process can be tiring and stressful at times; So, it is important to be patient with yourself and keep your mind and body calm. Do yoga, starching, exercise, or take a walk when you feel too stressed. You can eat your favorite dessert or call your best friend too to get into a light mood. The main thing is to keep yourself in a peaceful environment and not be worried about anything.  
10. Lastly, sleep well 
This goes without saying. Students these days are so much more competitive and hardworking that they often don't rest properly, which is not at all good. So, students must get good 7-8 hours of sleep daily during preparation and on exam day compulsorily. Our mind needs to rest more than our body when we prepare for such competitive tests, so better plan your sleep schedule nicely and follow it strictly.
Few more things to keep in mind

 
As you prepare for the Olympiads, you should also keep an eye out for the types of questions you answer correctly on each exam. In early math subjects, students have difficulty answering multiple-choice questions and tend to answer multiple-choice questions based on their understanding of the topic. However, students who study long enough tend to learn more about each topic and answer more questions correctly. If you keep a scorecard that lists the types of assignments you got incorrectly, you could review the questions to see if you got them right and how much you need to learn to get the final exam successfully. 
Finally, you can also take advantage of the various books you can buy to help you prepare for the Olympiad exam. These books contain practice tests, practice test questions, and sample questions so you can get an idea of ​​what the test will look like before you take it. The books contain multiple-choice questions and a discussion section to help you figure out how to tackle the various problems. 
With this, let us end it here. Remember, for a good result, start today, be regular, be wise, and do hard-smart work and nothing will stop you from getting good grades. 
Wish you the very best.