Are you new to the music industry? If yes, you must have some genuine questions about taking the first step, what it takes to stand out, how to achieve success, and many more. It's a fact that the music business has always been difficult and competitive. However, the music industry makes an estimated value of 15 billion dollars per year; the top musical artists make 80 percent of the estimated value. But the cutthroat competition has made it a lot more challenging to earn for the newbies. Turning your passion into a career asks for a great deal of dedication and consistency.
Hence, if you are just getting started with your music career, you must be extremely confused and looking for a label. So instead of spending money to hire a big manager, you can ask for help from a friend who is willing to help you and promote your music. This way, you will progress quicker, as they will shoulder some of your work. However, if you have spent quite some time struggling in the music industry alone, it's high time to hire a manager. A music agent can bring many things to your table and help you focus on your music. Some music agents are as successful as the artist, for example, Ed Sheeran's agent. They can help open some very unexpected doors for you. So it is vital to understand the music industry in depth. Success in the music industry majorly depends upon luck. Still, some other essential factors can impact your position in the music industry. Hence, here we are with some steps to follow to lay a solid foundation for your music career:
An essential factor for success in the music industry is lots of motivation and a strong ambition. So if you lack any of it, you won't be able to go too far. Hence, first, you need to lower down your expectations. There might be some people who don't want to work with you. However, that doesn't mean you lose hope; many people want to offer you excellent opportunities. Hence, look up to those golden opportunities. It is effortless to get demotivated during the early stages of your career, but try to look at the positive outlook. Hence, staying motivated is as important as being proactive in your career.
Promote Your Music On Social Media
The only key to success in the music industry is the promotion of your music. Of course, you need some medium to promote your talent, and social media is truly the best choice. Social media is the easiest and the most advanced way for promotion. You can reach out to millions of people, and that too without any money. Make sure that your content is well-engaging and you give the audience a reason to interact. Try to post minimally three times each week so that the audience remembers you. Posting unnecessary and unattractive content can also cause you to lose followers. Hence, social media is the best weapon; learn to use it wisely.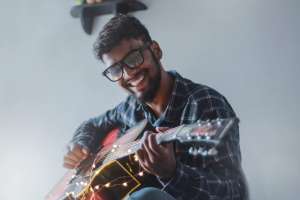 Having the talent of singing or playing an instrument may not be enough sometimes. Of course, it plays a significant role in your music career, but adding the extra oomph creates an ever-lasting effect. Hence, always remember there is room for improvement. Some musicians believe that they don't need any singing lessons because they can sing. However, these singing lessons can help you enhance the quality of your voice. In addition to that, you can learn tips and tricks, which you can use later effectively. Another tip is to look for a unique selling point, which means not doing things other musicians are also doing. Hence, your unique selling point should not always be big, but it should be noticeable, and you can stand out from the crowd.
Collaboration With Other Artists
The best way to encourage yourself is to collaborate with other artists that are successful in the music industry. Hence, it's an art to utilize the audience built up by other artists and make most of it. So if any artist offers you to do a song with them or be on the stage with them, it is the best opportunity to gain some fans and followers. It isn't easy to work with someone big but keep trying. You can start with a lesser-known person but with a decent buzz. Slowly and gradually, you will get to know more famous personalities. However, always remember that you are in a learning phase and try to grab beneficial points for your growth.
Feedback From The Audience
Always ask people for constructive criticism. It helps you enhance your music quality and succeed in the music industry. Suppose you have written a song and you wish to release it. So you can show it to your family and friends. Ask them to be critical and honest. Once you get to know about their opinion, you can send your piece to any relevant person belonging to the industry. Their feedback on your work will help you a lot. Sometimes you will get negative feedback, which will be hard to hear. But it will help you out in the long term. Hence, try to draw out the conclusion from your audience's opinion.
 As we have mentioned, there is no guarantee that you will gain fame and fortune as soon as you step in. However, one thing is for sure that success demands lots of motivation, immense hard work, thick skin, and the capability to adapt to whatever the music industry throws at you. But the key is to be consistent despite the challenges and failures you face. So once you understand where your music fits into the industry, you can easily play to your energy and thrive on the opportunities that come along your way. However, most importantly, find out the unique qualities that make you stand out from the crowd. We hope that this article has solved some of your queries. But remember, as long as you are in the game and consistent, you will get multiple opportunities in the future.