Renters looking to get organized
Ready to get your apartment organized once and for all?
If organizing your home is on your to-do list, you're not alone. But, while some people love tidying up every cabinet and drawer, some dread the very thought of it.
Depending on how messy you are, organizing your apartment might take a day or an entire weekend. But it's not hard to do.
If you need to take it in baby steps, that's okay too.
For those of you ready to get your place in order, here's our full guide to reorganizing your apartment.
The First Steps to Organization
The less you have, the easier it will be to organize.
So there's one thing you have to do in every room of the house:
Declutter:
Declutter room by room and get rid of all the things you don't need and don't want. You can donate or sell items online as long as they're in good shape.
Only when the clutter is gone will you be able to assess what you actually have to organize.
Living without clutter is key to having a clean home. The fewer things you have lying around, the easier it will be to dust, vacuum, sweep, and keep your apartment clean from top to bottom.
After you declutter, pick up a few storage boxes or bins or invest in a piece of storage furniture to contain the stuff you're keeping. To keep your apartment looking in tip-top shape, opt for cabinets and storage furniture with doors rather than open shelves. The more you can conceal, the neater your home will look!
Organize One Room at a Time
There's no need to rip your entire apartment apart and try to organize everything at once. Instead, work on one room at a time.
You can start with the hardest room first to make the rest of the project easier, or you can start with the easiest room first to get the project underway. Either way, seeing the progress you've made in one room will motivate you to move on to the next!
To cut down on trips walking from room to room, have a box or basket handy to carry things to where they go later. The trick with organizing is to make it enjoyable— and the less time you spend ferrying each object about, the more enjoyable it will be.
How to Organize Your Kitchen
Start by cleaning out your pantry and fridge.
Get rid of anything old, expired, or unidentifiable — that way, you'll have more space to store the food and beverages you plan to keep. If you have dry goods that you don't need that haven't expired yet, donate them to a food pantry where they'll be put to good use.
Go through drawers and cabinets and empty them of anything you don't use. The less you have to put back into those cabinets and drawers, the easier it will be to get and stay organized. And if your pots and pans are taking up far more space than you'd like, buy a hanging rack and suspend them from the ceiling!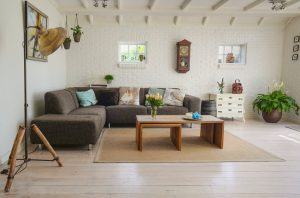 Next, clear off your countertop except for a few small items. Treat countertop space as prime real estate — use it only for the things you use every day, such as your toaster, coffee maker, canisters, and knife block.
When it comes time to put everything away, keep like items together. That rule holds true for everything in the roo — including things in the refrigerator, pantry, cabinets, and drawers.
How to Organize Your Bathroom
The bathroom is usually the easiest room to organize.
Go through your cabinets and medicine chest and toss out old medications and beauty products you never use. Clear off your counter and keep it as bare as possible.
Just think how much easier it will be to clean if the only things on it are your toothbrush and soap dispenser!
When it comes time to put items away, keep the things you use regularly within easy reach. For example, hang a shower caddy in the tub to hold your soap, razor, and shampoo. Attach an over-the-door rack to the back of the door to hang robes and towels.
And if you have a concealed storage cabinet underneath your sink, make sure you're making the most of that space. If you have cleaning products beneath your sink, as many people do, you might want to consider moving them to the kitchen.
How to Organize Your Living Room
Your living room may be full of things that don't need to be there. After you've decluttered, decide what really needs to be kept in the living room and what you can possibly store in your bedroom or hall closet.
Little things, like mail, remote controls, and chargers can become a big nuisance in a living room — but they don't have to be.
Place a bin by the door to hold your mail so it doesn't end up all over your coffee table. Get a tray to hold remote controls, game controllers, and other audio/visual accessories. Use storage bins to hold chargers and cables so that you don't have wires hanging from every outlet in the room.
And don't forget to tame that unsightly mess of wires behind your TV. These are easy to control — just fold them to the length they need to be and secure them with twist ties.
If you're in a small apartment with limited space, invest in furniture that doubles as storage. For example, look for storage ottomans that double as seating or a lift-top coffee table with a concealed shelf underneath.
How to Organize Your Bedroom
In the bedroom, start with your closets and drawers. Get rid of clothing and shoes that you no longer wear by donating items or selling them on a website like Poshmark.
Clear off the tops of your bureau, nightstands, and dressers so they look neater and are easier to wipe clean. And don't forget to make use of under bed storage. This is the perfect place to conceal seasonal wear like coats and boots or extra linens, such as sheets and blankets.
And, perhaps most importantly of all, make your bed.
Make your bed every single day, and you'll be much more inclined to keep the rest of the room tidy and neat!
Whether organizing is something you love to do or something you dread the very thought of, it isn't hard to do.
The trick to being organized is to have as little clutter as possible.
Get rid of things you don't use often. Assign everything else a place and keep everything in its place.
The good news is this:
You only have to organize your apartment once. If you keep up with it on a day-to-day basis, you'll never have to waste another weekend organizing again!
Author Bio:
Ryan Sundling is a Group Marketing Manager at Cardinal Group Management. He has over 10 years of experience in the conventional housing industry and works with Alexan on 20th Street Station on a daily basis to help them with their marketing efforts.