You work hard to buy the expensive items, and you take care of them. When you decide to move, you expect the movers to do the same for you. New York City moving services can do everything to protect your property from being getting damaged. So, the best way is to choose White Glove Moving services.
What Does White Moving Glove Moving Mean?
The services performed by moving companies with extra care and attention are called White Moving Glove. It's a luxury moving service, and expert professionals go the extra mile to ensure the safety of your belongings. Moreover, they do this efficiently and with great attention to detail. It's wise to hire White Moving Glove when you want to move fragile, unassembled items, lighting fixtures, artwork, rare antiques, and high-end items because they have the experience of handling these items safely and efficiently.
It is a service in which professionals wear white gloves and make the delivery process impeccable. It's not just about white gloves, and they have a lot more to offer. All other companies claim to handle fragile items with care, but the white glove movers have a special attitude that makes them different from others.
What's the Difference between Standard Moving Companies and White Glove Moving?
White glove movers take extra safety measures for transporting your items. They provide state-of-the-art to protect your belongings from scratches, breakages, and gouges. Moreover, the padding is attached to the walls of the truck to prevent furniture from colliding. Moreover, they're good for bumpy travel because they absorb shock.
Attention to detail of white-glove movers is amazing and incomparable. In contrast, standard moving companies want to do the job quickly, and as a result, they damage your belongings. In some cases, your items are lost as well. They also charge some hidden costs and don't tell you at the time of signing the contract.
Another issue with some standard moving companies is the inability to move all items at once. They also don't have proper equipment and training for moving bulkier items. You can't risk hiring a standard moving company and putting your delicate items at risk. White glove movers don't only provide you peace of mind; they also make your move hassle-free.
What White Glove Movers Do?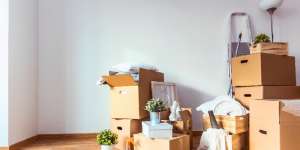 Let's check the services offered by white glove movers.
1. Packing and unpacking
A key difference between the two is white glove movers offer full-service moves. They don't only focus on moving goods from one place to another. They also take the responsibility of packing and unpacking. Both these tasks are the most stressful parts of moving.
White glove movers provide packing materials and pack all the items with care. Moreover, they properly label them so that you can easily find what you need.
2. Setup and Installation
These services don't end up unpacking, but they also set up everything for you. They help you hang everything, including artwork and television. They can even help you reassemble the furniture. Moreover, you can take their help to locate your furniture at the best spot in your new home.
3. Your belongings and home are safe
Protecting your home is as important as moving fragile items. White glove movers have special tools to safeguard your home. Moreover, they use floor runners to protect floors from damage. They use ramps for moving heavy items downstairs or upstairs. When you hire white glove movers, you can feel secure about your home safety.
4. Real-time freight tracking
It's the best feature of white glove movers, and you can track the real-time progress of the move at every stage. They use advanced tools to make it easy to track goods from picking to delivery points. It builds trust between customers and the company and avoids any mishap during the transit.
Benefits of White Glove Moving Services
When you decide to hire cheap movers to save a few dollars, it's not wise because it can cost you too much. Inexpensive moving companies may not cost you much, but their services won't be good. When you give your belongings in inexperienced hands, there is always a possibility that these goods will get damage.
In contrast, white-glove movers are relocation experts. They respect your belongings and do everything to make them safe. There are plenty of white glove moving services, so you need to choose a service according to your needs.
Is There Any Price Difference between Standard Moving Companies and White Glove Movers?
Yes, white-glove movers are professional, and they cost you more than standard moving companies. They are beneficial because you can skip the full coverage moving insurance and invest this money in hiring white glove movers. Moreover, for professional services, you need to pay more.