Do you like the ocean?
Even with all our new exploration technology, we have only explored 5% of the ocean. Ocean exploration has been around for a while, but much of the area remains uncharted. It's because of this that many people fear the ocean.
However, other people feel more interested in the ocean. In only 5% of the ocean we explored, we discovered one million species of animals. Are you a fan of ocean exploration and wonder where is the best aquarium in the US?
In this article, we show you nine of the best aquariums in the US. Check out some of these aquariums and get your needed dose of vitamin sea!
1. Shedd Aquarium
Located in Chicago, Shedd Aquarium is easily one of the best aquariums in the US. Many would say that the Shedd Aquarium is one of the best in the world. Since 1930, the Shedd Aquarium did an exceptional job in conservation efforts.
The Shedd Aquarium earned the R. Marlines Perkins and Director Ted Beattie Awards. When you first see it, you may feel impressed by its distinctive architecture. It also contains a three-level oceanarium with beluga whales and dolphins.
You may also come here to meet 32,000 other species. The Shedd Aquarium is open from 9 am to 5 pm. Prices may vary depending on their availability.
2. Georgia Aquarium
The Georgia Aquarium is the largest one in the world. As one of the best aquariums in the US, it holds more than 8 million gallons of water and is home to thousands of fish. It is over 550,000 square feet.
Some of the marine life you can find in the Georgia Aquarium include beluga whales and whale sharks. You may also meet bottlenose dolphins and a manta ray.
Tickets range from $30 to $40 dollars with tax. You can also go to their website to find discounts.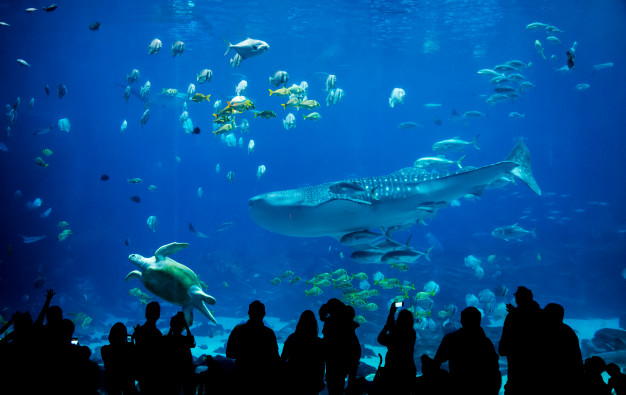 3. Audubon Aquarium of America
The Audubon Aquarium of America is quite small compared to other facilities. However, if you find yourself in the Big Easy, you need to visit the Audubon Aquarium of America. The aquarium opened with acclaim after sustaining damage from Hurricane Katrina.
The Audubon Aquarium of America is one of the best aquariums in the US, ranked fifth by USAToday. In this facility, you will find a walkthrough tunnel with a Caribbean reef exhibit. The aquarium was a great help during the oil spill in the Gulf of Mexico and is an enthusiast for the environment.
4. Monterey Bay Aquarium
All over the world, the Monterey Bay Aquarium is famous for its marine life. Their efforts in conservation and education set the global standard for aquariums. They made their sets engaging and fun for the public while staying informative.
This aquarium homes over 500 different species of marine life. The aquarium's splash zone is something both adults and children love. This aquarium has over 45 interactive exhibits.
If you have a child that is nine years old and below, Monterey Bay is a great destination. You can visit the Monterey Bay Aquarium between 10 am and 5 pm. Tickets range from $25 to $40.
5. Seattle Aquarium
The Seattle Aquarium is a big leader in community outreach. Instead of signs, the Seattle Aquarium employs more staff members to guide visitors. If you ever thought about volunteering for marine life, go to the Seattle Aquarium.
They train volunteers to become beach ambassadors for the facility. If you're coming from out of town, consider getting a City Pass. This gives you access to the aquarium and other attractions around Seattle.
6. Oregon Coast Aquarium
You can find the Oregon Coast Aquarium in the small beach town of Newport. Oregon Coast Aquarium is one of the best attractions for children. If you're on vacation with a budget, Oregon Coast Aquarium is the best place to go.
This facility comes with an outdoor component. Take your kids through the trails and visit the butterfly garden. You can also take your children to see the outdoor wave-crash exhibit.
The Passages of the Deep exhibit is 200 ft and surrounded by marine life. The facility allows you to rent out this area for a unique experience.
7. Aquarium of the Pacific
You can find the Aquarium of the Pacific in Long Beach, California. Here, you can find exotic and unique exhibits like the Shark Lagoon. If you have kids with you, you can check out some of the hands-on exhibits.
This facility is a great contributor to marine ecology and ocean health. The Aquarium of the Pacific is a host for guest lectures and conservation research. This is also a great facility for rehabilitating marine animals in need.
This award-winning facility offers tickets ranging from $15 to $30. You can visit this aquarium from 9 am to 6 pm.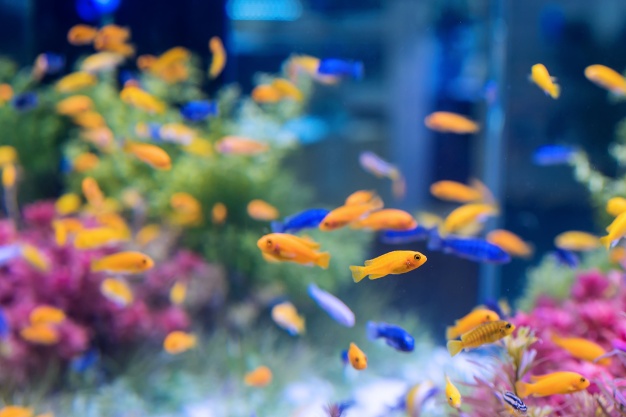 8. Ripley's Aquarium of the Smokies
This establishment is home to over 10,000 creatures. This facility contains over 350 different species, making it one of the bigger aquariums on this list. This also makes it a fan-favorite attraction.
This aquarium is engaging and is allowing you to interact with marine life. With some extra payments, you can pet and paint with a penguin. You can also take your family out for a tour behind the scenes and more!
9. Tennessee Aquarium
You can find this facility along the banks of the Tennessee River in Chattanooga. This is a unique aquarium that focuses on fresh-water diversity.
The Tennessee Aquarium homes more turtle species than any other aquarium or zoo. For an extra fee, the staff can take you on a 2-hour river cruise. An aquarium naturalist will guide you through the River Gorge.
If you're looking for a fun and educational trip, try checking out the Tennessee Aquarium. Admission ranges from $15 to $30 between 10am and 7:30pm.
Are you looking to visit these aquariums? You can plan your trip today by following this link!
Check Out the Best Aquariums in the US Now
Are you looking for an education marine life experience? Here are some of the best aquariums in the US. Whether you're a local or coming from out of town, you're sure to enjoy the experience.
Thank you for reading our article! Are you looking for more travel tips and destinations? Check out our other travel guides and recommendations.