Styling your little girls' hair for school is often a challenge as you have to keep it sober and stylish at the same time. Besides, you have to make sure that she looks cool without having to break the rules she has to follow at school as far as her looks are concerned. And, if you always find it challenging to give your cute little girl a perfect hairstyle then you should consider the options discussed below and see what will suit on your little one when she's learning at school.
1. Hair Bow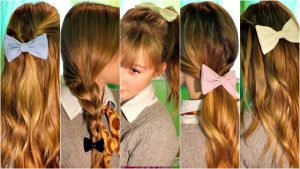 A daughter is a real gift and blessing of God and should be treated the same way as well. So, you should ensure that you dress her up perfectly and give her a beautiful hairstyle with a perfect bow as well. She won't just look cute in that hairstyle but her classmates will also flatter her gorgeous new hairstyle.
Here are simple steps to follow for achieving this hairstyle:
To start off, tie her hair into a neat ponytail at a level just around the middle of her head.
Pick up only a couple of inches hair section from top of the ponytail and use a sectioning clip for creating a new section.
Now, pick up 1/3rd of her ponytail from left hand side and curve its top part using curling iron.
Next, tease the top part down using teasing brush so that some volume can be achieved.
Use fine toothed comb for smoothening up the teased hair.
This hair section should now be bent into a half of the bow shape and should be secured to her head using bobby pins from underneath.
Now, pick a section from right side and follow the steps 3-6 again.
Unclip the separated hair section and just braid it down from almost 1/3rd of the hair length.
Place the braid in the middle along her bow and pin that to the head below the ponytail.
Create a couple of big curls using tail of ponytail.
Use a hairspray for setting it all up in place.
2.Heart Pigtails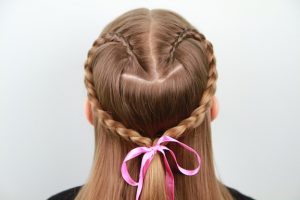 Pigtails have long been a popular hairstyle for school going girls but if you want to rejuvenate the look you can make them into beautiful heart shapes. It not only looks too adorable, but can also be managed within minutes.
Here is how this look can be achieved.
Brush all knots to start off and tie the hair into a couple of mid-level pigtails.
Use fingers to create some gap in her hair above hair elastic that is tied just around the right pigtail.
Now, flip over the pigtail and put it into the gap for topsy tailing.
Topsy tail the pigtail once more now.
Create a couple of sections to divide the pigtail.
Keep twisting the sections until it all starts to curve upwards and 2 halves are created to form the heart shape.
Both sections should now be brought together and tied up using hair elastic and a heart should be formed.
Steps 2-7 should now be repeated on left pigtail for completing the look.
3.Faux Waterfall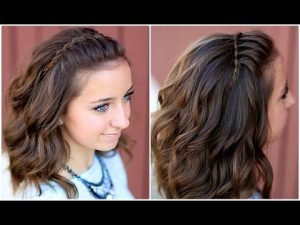 Waterfall braids are a popular trend and there are many different styles available today to give your little girl a more than perfect look. However, you may have become bored of it just because of the complexity of the hairdo. However, here we have a simple hack for you to have a braided waterfall look on your cute little girl without getting into much of trouble. It's a perfect look for school-going girls and you'd love it when you'll see your little girl flaunting it in style.
Here's how you can achieve this beautiful look.
Part the hair deeply on a side.
On the side that has more hair, pick a 3" hair section and braid it to its end and then secure the braid using hair elastic.
Insert the index finger and thumb through center of first stitch in the braid and pick another small hair section from front of her head.
This hair section should then be pulled through stitch of the braid.
Repeat steps 3 to 4 right throughout the braid until you are able to see a waterfall effect aligning with the parting you created earlier on other side.
The braid's end should be pinned at back of the head, underneath the hair, for finishing off this beautiful look.
4.Easy Twisted Bun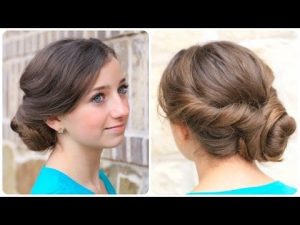 It's a perfect hairstyle option for girls who keep looking for the best hairstyles for summer on MrKidsHaircuts. The cool twisted updo will make your little angel feel awesome even in the scorching summer heat. Try this beautiful hairstyle and help her fight the heat while ensuring that she looks amazing and is ready to flaunt her style.
Here are the steps to follow in order to achieve the beautiful look.
Part her hair down the center and create couple of sections.
Tie the two sections to form ponytails at back of your girl's head.
Again create two sections out of her ponytail this time.
Twist the two sections individually till end.
The twisted sections should now be intertwined with one another and then the end should be secured using hair elastic.
Now repeat steps 3 through 5 on her right ponytail.
Wrap the twisted ponytails together to form a beautiful bun and then secure this bun to her head using bobby pins.
Twisted bun should now be loosened up gently to have more dimension as well as to finish the look off.
5.Bubble Ponytail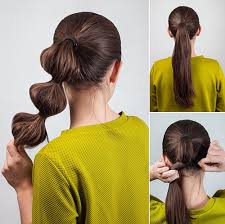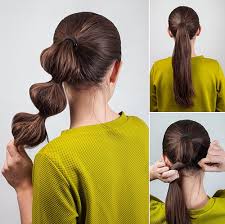 It's a very easy hairstyle to achieve and it looks really awesome as well. It's a perfect hairstyle for school going girls and will look just perfect on your little one. Using only a few elastics, you can transform that boring ponytail into something very stylish and she'll ask for it every day for sure. So, be ready for that too.
Here are the steps you need to follow for styling her hair into a beautiful bubble ponytail.
Brush her hair back and then tie it to form a ponytail towards back of the head.
Almost 1/3rd down the ponytail, use another elastic to tie the hair.
Pull her hair up and keep it apart between hair elastics for achieving that bubble effect.
Continue tying the hair with hair elastics as well as bubbling it all up until the end of the ponytail is reached.
So, give one of these beautiful hairstyles to your little girl and see how she looks and flaunts the new appearance at her school. Nevertheless, she is going to love it when her friends will pass some nice compliments.
To learn more better parenting lifestyle, visit Global Moms Magazine blog.