With the remarkable rise in e-commerce websites, you will find quite a huge variety of high-quality hair weaves available online.
A very popular type of hair that is attaining the curiosity of many, and getting more prominent among all the human hair types are "Peruvian hair weaves."
It has some excellent features that make it stand out from other hair types. It is not only affordable but also last for a substantial amount of time. And, this feature makes it extremely precious and useful to anyone who is looking to purchase top quality hair weave bundles.
But, what other factors really make it stand out? Let's take a look:
What Is Peruvian Hair?
It is real virgin hair weaves which looks and feels exactly like your own hair. It is one of the softer, thicker, Luxurious hair weaves like Brazilian hair or Indian hair. 
It is known for its incredible characteristics and one of the popular hair types available out there. 100% real human Peruvian hair is natural, light, silky, and lustrous, which has never treated or processed by any chemicals and the hair is in the original form with its cuticles remain intact and aligned in the same direction.  
What makes it gorgeous looking is the fact that it feels like natural hair. And, because it's virgin, it gives you the softest, smooth finish and does not tangle as well. 
Here are five amazing benefits of Peruvian hair: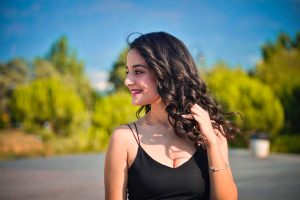 They Are Incredibly Versatile!
Peruvian hair weaves are so versatile that you would be surprised when you choose to buy one. There are so many styles you can get, starting from straight, body wave to deep wave and much more. You can easily use them if you have to attend an event, or even on a daily basis. 
And, as it is real human hair, it looks just flawless that can make head turns when your weaves are on. 
Whatever hairstyle you wish for, whether straight or wavy, you will get an entire range of it. It not only provides you the desired length but also makes your hair voluminous and bouncy. 
They Are Natural and Luxurious!
It is extracted from young donors, and that makes it a high-quality and luxurious looking hair. However, it is not extremely lustrous because if it is high in luster, it can look fake and artificial, right? 
It has the perfect shine, just like the human hair, which makes it easily movable and manageable. 
They Are Very Comfortable!
It is known for its superb quality, softness and feather-light texture, which means that once you are on with your hair weaves, you won't feel that you have put a lot of efforts. It will not feel unnatural and gives you the most natural and luxurious finish.  
In fact, even if you attach around three to four bundles of Peruvian hair, you actually won't feel them, and you can do your work without any hurdles!
And, the bottom line is, you can do whatever you like without panicking about your hair falling off, which is truly a great benefit! 
They Make Your Hair Voluminous and Manageable!
If someone has beautiful hair, it has to have some volume & sheen, Peruvian hair surely has that, and it does a remarkable job. 
Having the hair weaves on signifies that the hair has some movement and volume. It does not look stiff and simply looks natural and real all the time.
It also does blend well with African-American hair and gives the most beautiful sheen and extra shine that your hair needs!