Cabinets are the most prominent and defining feature of the kitchen design. They are the first things one notices while entering the kitchen and influence its feel. Besides, just be aware that cabinets generally consume most of the typical kitchen budget.
So, finding, the cabinetry style that fits your needs, desires, and aesthetics is not an easy task and can be a nerve-wracking decision you need to make.
Do you need space to showcase your cookbooks, but not on exposed shelves? Do you need to store the complete dinner set while sticking to the budget? Do you want a traditional style or a contemporary?
Here are some tips to ease out your dilemma:
Cabinet Types
Determine the layout of your kitchen first, if it includes all or some of basic types of cabinets such as
Base- under the counter
Wall-mounted- often standalone, used as a pantry
Special units like corner cabinets, bottle racks or hutches
Cabinet Quality Grades
The budget will be the determining factor to choose the cabinet quality grade. Based on the construction quality, four types of cabinet grades are available: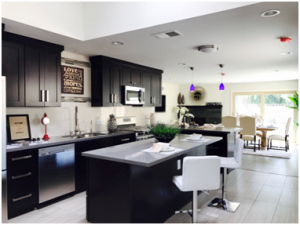 Ready-to-assemble cabinets–
These cabinets are pre-made can be easily found at big retailer stores. Although you can save money, they have less durability. Building and fixing cabinetry is not a simple task, so even skilled DIY persons need to hire professionals for the perfect cabinet for your kitchen.
They are bought directly from the manufacturer. These can be found in a range of different materials. However, they cannot be customised as they come in specific sizes.
They come in the middle in terms of price. They are customised stock cabinets made with personalizing doors, shelves or made-to-order units from a manufacturer. You can have various materials to choose from.
They are at the highest end of the spectrum offering unlimited options. They are made-to-order completely and you can decide everything about like materials, hardware, style, and construction.
Construction Type
Cabinet construction is of two types:
They have stiles and rails that form a face frame at the front of the cabinet box that is attached to the door giving it more strength. You have more flexibility with this door type allowing for standard, inset and overlay cabinet doors.
It gives a more contemporary look and better interior access by excluding the frame, leaving the box type denser look giving it more stability.
Glossary Style
On the basis of the architectural style of home, you can select from the various styles including:
The shape of the door is the arch-like window that can be recessed or increased within the door frame. This style is generally preferred for upper wall cabinets.
The inside panel features stripes or beading created by grooves. This style can be combined with other designs as well.
The door has a flat panel that is surrounded by molding. The transitional kitchen mostly has flat panels.
They are flat panel doors with square frame molding with simple clean lines typically made of oak and highlighted the wood grain.
One of the most minimalist options, they have no flat panels, molding or beading. They have hardware pull and push-to-open mechanism.
 Wood Type
Selecting wood for your kitchen cabinets is more than just choosing light or dark. Consider the end look you want for your cabinets while choosing the wood. Walnut and ebony are more expensive than others. Mahogany is very dark and is perfect for a formal kitchen. Try and select the wood that stains easily and evenly. Choose a durable wood especially if you reside in a humid climate to prevent the possible expansion of the wood.
Conclusion
Take your own time to decide what you want, what matches perfectly with your imagination and the feel you are more likely to enjoy and appreciate your new kitchen. Hire a professional carpenter from the online directory and turn your kitchen modeling dreams into reality.