In a country like UAE, where businesses prosper and become aggressively indulgent every-now-and-then, and the roads always occupied with commuters heading to their errands and rushing to reach on time, mental peace is hard to achieve. These lifestyle inclinations in the UAE hold primary reasons why vaping and smoking are frequent in the region. Moreover, the urge to vaping is no more just a smoking-cessation method anymore but has attained the title of trendy habits among the citizens. It isn't easy for anyone who is new to the city or is not a seasoned vaper to all the vaping laws. It concerns the vapers on-the-go as changes are frequent in the rules due to vaping is a new introduction, and the research is still halfway on its effects. Here are the essentials you need to keep in mind while craving to vape indoors in the UAE:
Somethings need not be explicitly stated:
Permitting and allowing vapes legally doesn't qualify you to vape anywhere, anytime. While the NHS patients demand that they be allowed to vape even in the beds and office cubicles, nothing formally stated in exact words in this regard. What needs to be ensured is you don't hinder the space and privacy of others. While you vape indoors, you must ensure that nobody suffers because of your activity, not just vaping for that matter. You must note that some people can not stand the smell of vapes as well. It follows with an unsaid condition that you must not vape when with children below 18 years of age to avoid any harmful influence or mishappenings due to unpaid attention in such cases.
Confirm with your office Human Resources Department!
When it gets to vaping at work in Dubai or anywhere, the one customary rule is to ask and clarify the exact guidelines stated by your office management. Some workplaces assign area just for vapers apart from the smoking lounge where you can definitely vape.
You will not be allowed to vape inside your office cubicle or in a conference room in most cases. Many people perceive vaping as vexatious or distracting in their proximity. Hence, most employers will altogether avoid any such permissions for you to vape inside the office. However, in some cases, these restrictions prevent any legal issues that may arise due to an untolerating colleague or due to an irritating overhead smoke cloud.
If vaping breaches any e-cigarette workplace policy, it is propitious not to indulge in any furtiveness vaping at work. Moreover, since vaping and e-cigarettes are relatively new, vaping laws and obligations usually descend into shady areas. It is best to avoid vaping inside office premises or clarify the policies before indulging in these practices.
What is the best practice if you wish to vape indoors?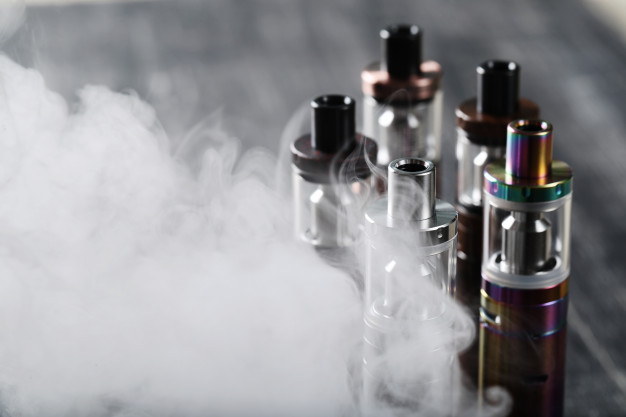 Even if you are unsure of the legal laws and policy obligations for vaping in restaurants, offices, or anywhere indoors, courtesy goes a long way to help you. Ask people if they are comfortable with you vaping around; it holds to be among the few best practices if you wish to vape at ease at places you generally visit: the routine office, the site you pick your coffee cup, or just the grocery store you visit weekly. Understand that not many people consider vaping as safe or may not have a clear idea of what vaping is or its effects; they might not relish the vapor's fragrance.
What does the legal law outlines:
The UAE formally legalized electronic cigarette in Dubai back in 2019 to restrict the sale of uncontrolled e-cigarettes and lower nicotine consumption in the country. This rules out the possibility of getting a defective vaping device in the country since governmental laws regulate it. Moreover, just for the information, buying vapes is entirely legal.
Vaping is in a grey area when it comes to regulating it as smoking merchandise. The way matters are directed is that it is interpreted the same as cigarette smoking, even though the consensus is that the e-vapor is not as dangerous as second-hand vapor. And even though the FDA regards vaping as potentially safer than smoking, they still signify it as a tobacco product in the means it is restrained.
Concluding Thoughts:
With vaping trends making a potential presence in the UAE lifestyle, the laws to govern the usage of vapes indoors are still on the verge of deployment or modification. Legalizing their sale and purchase across the country was the first step in promoting safe vaping practices, yet the long way is to clearly state the laws that specify where you can vape and where you can not. The best practice is to find out with the premise owner if they allow it, and then checking with the colleagues or those present in that indoor space if they are comfortable with you vaping there. Else, smoking lounges will never have a problem with your vaping inside them in any business organization.