When the chill starts to come around, the panic starts to set in – oh no, I've nothing to wear in the cold and I either have to spend a tonne of money on brand new clothes or shiver my way through the whole season. If that sounds familiar, then you've come to the right spot. Curating the right winter accessories is the perfect way of investing in long-lasting, warming pieces without spending an arm and a leg in the process. So, without further ado, here are the only winter accessories that you should be introducing into your wardrobe this season…
Leather Gloves
A pair of protective leather gloves is going to keep your hands perfectly warm and waterproof, no matter how gnarly the winter gets! Gloves might not be the first item that your mind jumps to when you think of pieces to invest in, but a high-quality pair of leather gloves will stay in your collection for so many seasons to come. Shop for yours in black, navy, or Burgundy for gloves that go with all of your winter get-ups. Cow or calf leather will work best as it's buttery but not as soft as lambs leather, which won't be able to withstand daily wear and tear.
Knitted Beanie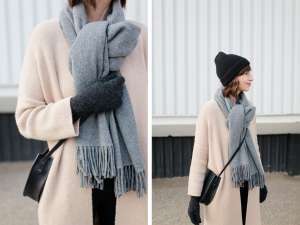 A cozy knitted beanie will insulate all that important heat in your head and keep you warm throughout the whole of winter, autumn, and early spring. Beanies are great because they really trap in the heat and keep you comfortable whilst you're shivering outside. You can also pull yours right over your ears to keep those toasty, too! Look for your beanie in a fun pop shade such as mustard or forest green to add a little color to your outfits, black can get tiresome after a while.
Socks
Your head and your feet carry the most heat, so it's important that you take extra precautions to keep them well protected and dry in colder weather. A pair of fluffy, knitted, heat tech, or cashmere socks (or ten!) will be your very best friend when cold conditions start to creep up on you. Start a serious collection if you don't have one already. Custom dress socks are probably the simplest and most effective addition to your winter wardrobe, so it's about time you picked up a few heavy-duty pairs if they are missing from your accessory rotation. Plus, you can always find them in fun and cute patterns for a cheeky pop of personality.
Cashmere scarf
A cosy cashmere scarf is such an essential for chilly weather you just have no idea. A lot of people hear the word cashmere and immediately think that it's a luxury, but that's not necessarily the case! Although yes cashmere is incredibly silky, soft, and luxurious, that doesn't mean that you can't find it at a reasonable price. Look for cashmere scarves from local boutiques and designers at accessible price points for the ultimate winter warmer accessory. Cashmere is up to three times warmer than wool and infinitely less itchy, making for the perfect scarf to lock in heat and look good doing it, too.
Sunnies
 Of course, you'll still need to protect your eyes from the glaring sun in winter. We often get a little slack when it comes to wearing sun cream and other forms of protection once the colder weather starts, do your eyes and your skin a favor and keep up with the old SPF and sunnies routine. You'll thank yourself down the line!
And there you have it, the winter accessories you need in your wardrobe this season!