Your business is most probably growing bigger and bigger if you are here trying to figure out where to find freelancers. Even though looking for locals may be your first thought, you can also find freelancers online if you know where to search for them exactly. 
ItHire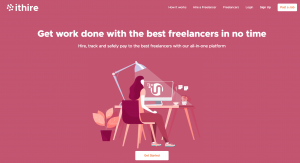 If you wonder how to find high-quality freelancers, ItHire may be one of the best options. ItHire is a tech-only freelance platform designed to connect entrepreneurs to freelancers.
ItHire is one of the most promising technical freelance platforms. The mission is to help numerous specialists work from the comfort of their house and be able to contribute a decent time to projects they truly enjoy. 
How to find freelancers on ItHire? Very simply. 
The platform is highly user-friendly. All you need to do as a client is posting a job and get personalized recommendations. Choose a freelancer based on their previous projects and pay only after you are content with the submitted tasks. 
ItHire delivers exceedingly transparent insights about the freelancers' working path. You can track their progress via screenshots taken by the platform's internal tracking tool. 
The applicants undergo a strict vetting process to be able to post their resumes on the platform. The screening process checks the freelancers' real-time coding, code reviews, English language proficiency, and more. 
Hire freelancers that will help you grow your business.  
Freelancer.com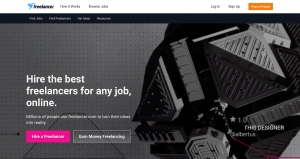 Freelancer.com is the best place to find freelancers if your search scope is very wide. The company lets you find freelancers both by skills and location. The network includes designers, web developers, lawyers, manufacturers, and more. Freelancer.com also offers ideas for your business if you happen not to envision what you need exactly. 
You can choose freelancers based on their profile reviews and also see their previous projects. You can live chat with them to get constant updates about your project. To be fair, the entry bar is relatively low compared with such platforms as ItHire or Toptal, however, you will be able to find professionals if you are willing to pay.
The platform also lets you track their progress with the time tracker and mobile app.
Freelancer.com lets you pay in over 39 currencies only after you approve the submissions of the freelancers. 
Toptal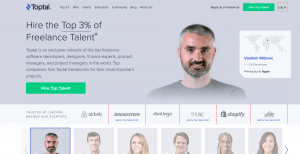 Many may claim that Toptal is the best place to find freelancers as it has exceeded its network beyond technology offering people specialized in engineering, design, software development, product management, and more. The platform presents itself as a system that offers only 3% of freelance talents. The vetting process is well-founded as developers' skills are checked in several criteria before they get access to the platform. The screening process for freelancers is highly competitive, as a result, you can find some good talent there. 
The Toptal members can socialize on the platform, discuss and share their experience with others hence developing new skills. Moreover, all freelancers take English proficiency tests amid joining the platform to ensure that the communication between the clients and freelancers is as efficient as possible. 
Lemon.io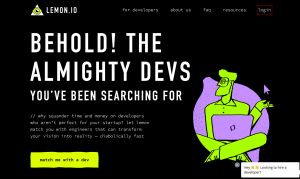 Lemon.io is another developer-only freelance platform. The company is very freelancer-friendly as it claims that developers choose the projects and set their schedules themselves. They do not get charged extra fees and focus on development leaving the sales to the company. 
For a project to get started, it needs to be 100+ hours of work. There are no initial fees, however, you need to pay freelance programmers to have your project start. 
Guru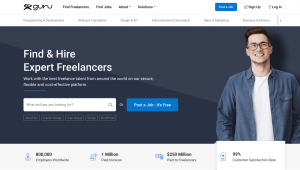 Even if you have made up your mind to find freelancers online, there is still an option to look for them in certain locations.  The Pennsylvania-based company attracts more and more freelancers around the States. The platform is very easy to use. You simply sign it, post a job and get Quotes from various applicants. You later browse through quotes, evaluate them and hire a freelancer with one click. Customer support is available 24/7.
Joining the platform is free. The free membership includes 
Posting unlimited jobs

Requesting quotes from freelancers

Working in Workrooms
Fiverr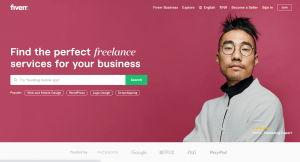 Fiverr is another freelance platform with an extended network. The Fiverr marketplace includes graphic designers, digital marketing specialists, writers, translators, software developers, video/audio makers, music specialists, and much more. Fiverr offers freelancers with proven career experience and has 24/7 available customer service. On top of that, customer success specialists help you on your freelancer hunting journey and make sure you get the perfect match. 
Simply Hired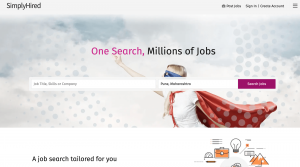 An online recruitment platform,  which partners with such companies as Walmart, Target, Delta, and more.
The freelance-friendly company has an online resume builder that helps freelancers form a professional CV.
SimplyHired claims that almost 3 million people trust them to deliver qualified works. 
Posting jobs is free on the platform, but once you make up your mind to contact a freelancer, you will have o pay starting from 9$.  
More. more
Flexjobs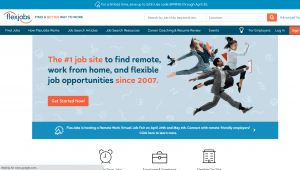 The company was founded in 2007 by a freelancer itself. The name of the company stands for flexible jobs. Its main objective is substituting the traditional full-time jobs with more flexible schedules. 
Unlike other freelance platforms like ItHire or Lemon.io you pay to post a job on Flexjobs and even though this may sound reluctant at first, the company says that they charge people for job posting in order to avoid scams and frauds. 
People per Hour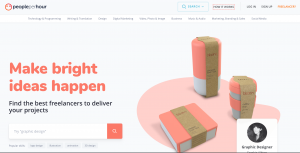 People per hour offer a wide range of freelance talents specialized in business, software engineering, design, digital marketing, video making, and more. 
You post the project with a comprehensive description so that the AI-powered platform can come up with the best matching specialist. You review the proposals, pick the one you like the most and pay a deposit to have your project started. Once the project gets completed you pay the freelancer through the PPH payment system.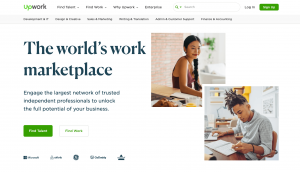 Upwork is properly one of the most famous freelance platforms in the marketplace no matter what kind of freelancer you are looking for. Founded as Elance-ODesk, the company later was rebranded as Upwork.
How to find freelancers on UpWork?
Upwork offers a collaborative workspace and a transparent vetting process. 
Once the freelancers complete their profiles, they get recommendations for ideal projects. They can also search for jobs on their own and get client invitations.
From the client's point of you, Upwork algorithms help them find the perfect match by narrowing down their search for potential hires. 
Hundreds of freelance jobs are posted on the platform daily, however, keep in mind that there is also a huge audience competing for the applicants. Therefore, it will take some time until you learn how to use the platform efficiently.
Once you master all the tricks, you will effortlessly find freelance developers. 
Read More- How to Delete Upwork Account
Amazon Mechanical Turk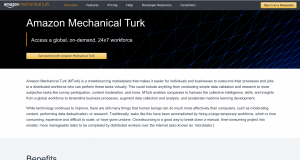 Unlike the previous freelance platforms mentioned in the article, AMT is a crowdsourcing freelance company meant for companies to outsource micro manual tasks to the global workforce. The benefit of choosing such an unconventional method of freelancing is freeing up time and saving resources by giving minor tasks to freelance workers and having the main team focus on the company's needs completely. 
Freelancermap.com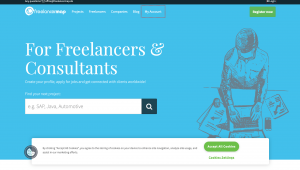 A platform that aims at helping freelancers find their ideal jobs and spend more time on projects they truly like. 
With zero commission fees, Freelancermap.com may be heaven on Earth for freelancers. 
The platform offers such services as development, consulting, IT infrastructure, Sap, and more.