Aqua Marina is the world best-known seller for stand-up paddleboards. Furthermore, it is renowned for its affordable pricing and their inflatable SUP line launched in 2018 featuring 18 boards. The boards range from size 8'7" to 18'1". Apart from this, they have more SUP paddles and other accessories such as kayaks, sport boats, fishing boats, canoes and many more. The boards are designed for all ages and specialty namely for children, veteran paddlers, tandem and multi-person paddling, SUP fitness and fishing, sailing, racing or any other reactional use provided it is on water. However, before we look at the best boards to purchase and their features, let us first look at what to consider when choosing a stand-up paddleboard.
Factors to Consider When Choosing a New SUP Paddleboard
Doing some research is key when you want to purchase any type of sports kit or gear to achieve the best product in both quality and efficiency. Thus, in the case of wanting a new paddle, here are some factors to consider:
Choose the Right Hull
When it comes to paddleboards, there are two types of hull, the displacement hull, and the planing hull. If your only intent is to have some time in the sea or beach leisurely, then go for the planing hull. This is due to its wide body and the easiness to maneuver making it best for relaxing and SUP yoga.
However, in the case of a displacement hull, its design is for sporting activities such as competitive paddling and for fitness. This is due to its narrower body which allows skimming in the water at great speed.
Volume and Weight Capacity
This factor is very vital since if you are heavier than the board paddle, it will tend to sink making it harder to paddle and significantly lowering your speed. The weight capacity of each type of paddleboard is on the website so you do not have to worry.
Pick a Construction Style That is Appropriate
There are two construction types of stand-up paddleboards: the solid style and the construction style. The solid type has been made from a foam core surrounded by some solid surface like epoxy and fiberglass. This helps it to gain more stability and durability making it performance efficient for sporting. On the other hand, the inflatable paddleboard has been made from PVC with its exterior being air-core thus making it more portable and easier for storage thus efficient for leisure paddling and perfect for yoga.
Length of the Paddle
The length of SUP paddleboard comes in three categories namely short, medium and long. The short ones are usually under 10 feet making it legit for children use. The medium-length ranges between 10-12 feet long, purposely for normal paddling, and SUP yoga. Finally, the long paddleboards, which are more than 12 feet and have a great speed making them efficient for long-distance paddling and competitive paddling.
Width of the Paddleboard
A paddleboard with more provides more stability on water but is relatively slow and difficult to paddle while a narrower is faster but with less stability on the water. It is also a matter of body type; big people find it more comfortable on the wider board while tiny people are good with the narrow board.
After the above factors, here are some of the best and latest Aqua Marina SUP products.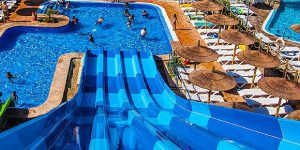 Latest Aqua Marina SUP products
Aqua Marina SUP VIBRANT
Feet – 8'0"
Length – 244cm
Volume – 140l
Model – BT-19VIP 2019
Price – 260,14 EUR
Has super lightweight and its center fin is removable. It also has a double-action pump for easy and fast installation. Therefore, it is designed for kids and junior riders but amateurs in paddling can also use.
Aqua Marina SUP Breeze
Feet – 9'0"
Length – 275cm
Volume – 200l
Model – BT-19BRP 2019
Price – 298,33 EUR
Has an integrated cargo D-ring to attach luggage with a durable rubber handle. It also has a three-piece aluminum paddle that is adjustable. It also lightweight due to the stitching technology used. For Beginners and intermediates.
Aqua Marina Vapor SUP
Length – 300cm
Volume -220l
Model – BT-19VAP 2019
Price – 319,81 EUR
Has a honeycomb-grooving footpad for more grip and comfort hence more stable with great speed and tracking.
Aqua Marina SUP Fusion
Feet – 10'4"
Length – 315cm
Volume -290l
Model – BT-19FUP 2019
Price – 353,22 EUR
Currently the best seller
Aqua Marina SUP Dhyana
Feet – 11'0"
Length – 336cm
Volume – 296l
Model – BT-19DHT 2019
Price – 446,30 EUR
Aqua Marina Super Trip SUP
Feet – 12'2"
Length – 370cm
Model – BT-18ST 2018
Price – 489,26 EUR
Has super-size and real fun
Aqua Marina MEGA Sup
Feet – 18'1"
Length – 550cm
Model – BT-18ME 2018
Price – 966,59 EUR
Provides mega-fun
Quick navigation of other top Aqua Marina Product include:
Echo
Beast
Rapid
Magma
Thrive
Blade
Perspective
Monster
Race
Trip
Champion
Buyers guide
To get the above and many more paddleboard SUP at affordable pricing, visit easy-surfshop.com and make your order of purchase now.