Did you know most period products are made from plastic, which causes huge environmental concerns around the globe? According to one estimate, the average female will throw out approximately 300 pounds of period products in her life. Some of those plastic products could still clutter the earth and oceans 500 years from today!
When it comes to managing your period symptoms, you may feel like you have a few environmentally friendly choices available to you. Fortunately, more companies are understanding the value of being environmentally responsible and creating safe, biodegradable feminine hygiene products that won't hurt you or the earth. Here is a quick guide to how you can find the best organic period pads and tampons so you can be more eco-friendly on your period.
Choose Biodegradable Plastic
Ready for some shocking information? It is possible to find biodegradable plastic tampons! However, they aren't available at your average grocery store or drug store. Most popular name-brand period products use plastic that is not biodegradable and may contain unsafe materials that can harm both your body and the environment. Fortunately, there are a few companies that realize the importance of using safe, eco-friendly materials for all feminine products. Since plastic applicators are the most popular type due to their comfort, some companies offer bio-plastic applicators. One such company creates its plastic tampons from only 10% BPA-free plastic and 90% sugar-cane. This is the best type of tampon applicator if you want the smoothness of plastic without the toxicity.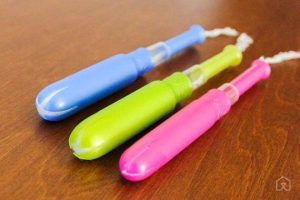 Use Cardboard
Cardboard tampon applicators are much more environmentally friendly than their cheap plastic counterparts. Unlike most types of plastic, cardboard is biodegradable, which makes it a more responsible choice. Cardboard applicators are also non-threatening to your body, whereas most plastic applicators are made from potentially toxic materials (unless you opt for biodegradable plastic).
Stick With Organic
While it's important to make sure the outer part of your tampon applicator is environmentally friendly, don't forget to find out what's inside as well. Many tampon interiors contain scary materials such as bleached cotton, nonorganic rayon and even traces of herbicides and pesticides. The last thing you want to do is introduce those substances to one of the most sensitive parts of your body. Ditch the toxic materials for organic tampons that don't contain any questionable ingredients. The best organic tampons are made from 100% organic cotton. This means they're not only perfectly safe for you, but completely biodegradable as well.
If you need pads or pantyliners to help keep you comfortable and dry, opt for organic options. The best organic period pads are designed to be absorbent, breathable and comfortable. There are also daytime and nighttime options available so you get the perfect level of protection for your needs no matter what time it is.
There is no reason to contribute to the buildup of plastic in the environment when better, safer alternatives are available. While you do your part to take care of the world and the wildlife living in it, you can rest assured that you're also taking better care of your body by only purchasing organic, biodegradable period products.