Suits season 9 is finally there, After running for such a long time till season 8, "Suits" the famous US drama has reached the season 9. The wait is over and the web show about to release on 18th July. Suits season 9 is the latest season. Hopefully, Harvey and donna might finally turn out to be a couple but not the cards of marriage gonna be played definitely.  Let's unfold all the gossip and updates that we have got for you before you start to chill with Netflix mode. 
For all the seasons, Suits played into the will-they, won't-they dilemma. Not like the other popular shows Friends and Cheers, this popular series maintained a straight line between Harvey and Donna. Except for that one time they slept together, haha I am sure you might not forget this part for sure and the kiss that happened a couple of seasons back, this kiss took the show on a twist for sure. They were in other severe relationships for sure. So while all the fans were somehow hoping they'd end up being together, the show could've totally pulled it off if their love for each other. However, with the show's central love track mike and Rachel leaving the line, they needed to fill that space and finally move with  Harvey and Donna romance.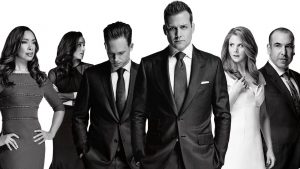 With just last season left, The suits season 9 has around 10 episodes, planning and executing a wedding isn't in the cards for sure, especially with the twists and turns the show has gone with. Frankly, at this point, Donna and Harvey don't need a wedding to ruin their cute relationship. It took them years of building up to this moment, and they don't need to rush for getting hitched just to prove their love and commitment of the relationship. It is to stereotype now to get them married, don't you think so? If you are a long time fan of this fantastic web show, then I am pretty sure that you are aware of thee things I am making clear about them being hitched. If anything, seeing them finally coming together at the end of season 8 was already a significant development in itself. Whatever happens after that is just a surprise to their love.
But the biggest disappointment is. The final season of Suits seasons 9 will address with Rachel Zane's absence. In the ninth season outing, the suits team is planning to bring all the old memories out by inviting the old crew back, including Patrick J. Adams' Mike Ross – however, fans shouldn't hold their breath for an appearance from his wife. The drama is not gonna totally ignore Rachels existence though. 
The casts of the season nine of suits, the show is developing  Mike and Rachel's love story from the past several seasons. But they officially said goodbye to each other in the series during the season 7 finale, soon after the knot, they planned to shift to a new city and not follow the corporate laws and rules, fans have not seen or heard from them. Part of the narrative, Adams, and Markle was written out of the drama. With Suits ending its show with its suits season 9 that is the last season, fans are hoping for a reunite of its core cast. So that they can experience the show all season in one episode And while Markle will not be in the story, the show is finding ways to build her into the story especially opposite Mike coming to New York.