We live in a fitness obsessed-culture. Every day you are bombarded with ad after ad, regiment after regiment on the next hot fitness plan. You have tried and failed over and over to implement good fitness habits and have even read these exact words a couple of times before starting your next one.
Maintaining good fitness is beneficial for everything from mental, emotional and physical health as well as avoiding injury and has been shown to be beneficial for mental instability and cancer care. All this being said, how come it is so difficult to stick to it? The answer is different for everyone, and that is part of the problem. Perhaps you should take a few things into consideration before hopping on your next health and fitness kick.
1. Be Realistic
Let's be honest with ourselves, if you are not a soldier or an athlete you do not have a reason to stay in shape outside of "You should." You have to create or find a system that you know you can adhere to for the rest of your life. This takes trial and error but you have to be okay with failure and must be willing to learn from it. Accept yourself and apply that to your fitness goals.
2. Do Not Punish Yourself
Have you ever seen your gym rat friend sit around being angry with himself for missing his run? People who maintain steady fitness do not punish themselves for failure. They do this almost every day and do not sweat the missed days or little failures along the way. People who struggle with fitness have a tendency to get so angry at themselves for missing a workout or two that they will self destruct and give up on the endeavor entirely.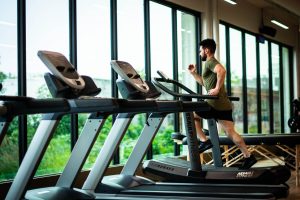 3. Motivate Yourself, Somehow
Self-motivation is a rarer trait than people realize. How many 'self-motivators' would there be out there if there was no ladder to climb? And that's one of the problems with fitness. You have to create the ladder. If you depend on others to motivate you to work out, there will come a time when they dip or simply cannot make it anymore. How you choose to motivate yourself is wholly up to you, everybody is different. Maybe have ice cream every night if you did everything right that day. Maybe set a minimum work out the standard that you could justify even if you worked twelve hours that day.
4. Know When To Adapt
Your fitness regiment may have been working great for a couple of months when all of a sudden some life changes occurred and now you are slipping. You need to weigh the scales and decide what needs to change between your life and fitness plan. Maybe you need to have a couple of fewer workouts and eat a few fewer calories. Perhaps whatever changed in your life is doing more bad than good. You must be ready to make these calls. You want your fitness goals and life to be in balance, or else one will destroy the other and it normally is the fitness plan that goes.
5. Do Something You Enjoy
If you do not enjoy lifting weights or meditating, don't do them. Maybe you enjoy dancing or walking. The workout isn't really important if your goal is simply to maintain your health. What is important is that you are consistent in the long term with whatever you choose to do. Swim, bicycle, take long nature walks while listening to your favorite band. Be realistic with what you are willing to do.
6. Keep Score
Do not forget to celebrate the small wins. This is a lifetime endeavor and you need to remind yourself along the way that you are doing great. Maybe instead of weighing yourself, find a shirt you fit into better and better every month. This will not only make you feel good about what you have done, it just might motivate you to try harder.