The Golden Isles are a great place to land for travelers looking to escape the hustle of everyday life and experience a vacation destination that's equal parts scenic and serene. Of all the destinations the Golden Isles provide, there's something irresistible about St. Simons Island in particular. This barrier island holds the title as the largest of all the Golden Island welcomes guests to come and unwind and relax in southern Georgia style.
A trip to St. Simons Island can be marked by a variety of fantastic features. Some travelers make their way this direction to enjoy ample time spent working on a golden tan, making the most of the many beaches that collide with gentle surf. Others turn to St. Simons Island in hopes of encountering a myriad of ecosystems and wildlife as this island is home to a collection of stunning salt marshes. Still, other travelers head to St. Simons Island to find the time to enjoy lighthouses, museums, and restaurants that dazzle.
Somewhere along the many moss-covered and oak-lined roads, St. Simons Island finds a way to captivate its audience, no matter what interests or passions a traveler may bring with them. If it happens to be your first time here, there are a few stops you won't want to miss out on. Here are 5 things to add to the itinerary for a trip that sure to inspire you to return to St. Simons Island time and again.
East Beach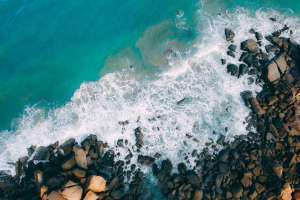 If you only have time to enjoy one beach while visiting St. Simons Island, make sure it's East Beach. This iconic stretch of sand along the ocean-lined coast of St. Simons Island is popular amongst locals and tourists alike. Families make their way here to enjoy a day of sunbathing and collecting seashells while water sport enthusiasts find East Beach to be a welcoming destination for kite surfing. East Beach's location puts it in the perfect place for tides that create hard-packed sand. For visitors, this provides a surface that works just as well for a stroll along the water as it does for an oceanside bike ride. When the tide is low, East Beach beckons anglers to come cast a line and try their luck at reeling in the catch of the day.
Golden Isles Bracelet Company
Having an amazing vacation on St. Simons Island is important, but so if finding just the right souvenir to commemorate your trip once you've returned home. A trip to the Golden Isles Bracelet Company at Pier Village Market #106 is essential for those that love meaningful accessorizing. Since opening in 2006, this charming shop has built a reputation for excellence. Guests are invited to come in and browse a vast collection of locally handcrafted jewelry that depicts images that represent the island. Whether you're one for turtle earrings or shell bracelets, this is a one-stop-shop for unique mementos that capture the essence of the island in metal.
St. Simons Lighthouse Museum
The geographical location of St. Simons Island makes it a place brimming over with nautical history. A visit to the St. Simons Lighthouse Museum while you're in town is a two for one experience where guests can browse the many displays while also encountering the lighthouse up close. Located at 610 Beachview Drive, the original lighthouse was first constructed in 1810 but had to be reconstructed in 1872 after being demolished by Confederate forces. The museum provides guests with a wonderful afternoon of exploring displays dedicated to marine artifacts, interactive displays, and exhibits that recreate the life of a lighthouse keeper. Once you've had your fill of information, feel free to climb 129-steps up into the sky for sweeping views of the water from the top of the lighthouse observation deck. Many guests are surprised to learn that the lighthouse is still active and acts as a beacon with the capacity to cast light 23-miles out to sea.
Colonial Island Trolley Tour
Get a comprehensive, comfortable and informative look at all of St. Simons Island when you book a spot on the Colonial Island Trolley Tour while you're here. Tours depart from Pier Village and your mode of transportation isn't hard to spot as the trolley is finished in a bold shade of red. These 90-minute excursions cover over 22-miles of land and highlight over 86 of the island's most infamous landmarks. Tours depart twice a day and tickets can be purchased for $20 per person. As an added benefit, Colonial Island Trolleys are air-conditioned for maximum comfort no matter the weather.
Barbara Jean's
Sometimes the most fantastic St. Simons Island memories are made through flavor. When you're here for the first time and looking for the ultimate dining stop, make your way to Barbara Jeans. Situated at 214 Mallery Street, Barbara Jean's is a well-known name on the island and a popular stop for those that have a passion for southern fare and savory seafood. Come on in and relax in an atmosphere that's warm and welcoming and be sure to order up Barbara Jean's famous crab cakes.
Author Bio
Caitlyn Knuth is a travel writer whose own adventures have inspired her to write about everything from the most delicious cafés in Paris, France to the breathtaking salmon runs in Juneau, Alaska. Working in association with Lilmar Vacations, she enjoys writing and sharing about St. Simons Island in the hope others will pack up and head out on Georgia-bound adventures of their very own.