The Florida panhandle is a pristine piece of the Florida coast where visitors from near and far can come and make the most of the sand, water, and seemingly endless sunshine. While Northwest Florida is known for its captivating coastline, those looking for a place where outdoor beauty meets coastal city fun will want to be sure to spend plenty of time in Fort Walton Beach. This gorgeous area where the Choctawhatchee Bay and Santa Rosa Sound collide is the ideal vacation destination for travelers with a heart for long stretches of sugar-white sand in combination with proximity to restaurants, shops, museums and much more. Get your fill of culture and feel free to work on a tan in the in-between time when you make Fort Walton Beach your must-visit destination this year. When you're hoping to enjoy a stay that comes with some off-the-beaten-path experiences as well, here are five spots in Fort Walton Beach that you're definitely going to want to add to your itinerary.
The Air Force Armament Museum
While the city of Fort Walton Beach was formally established in 1953, it's rooted date back to the beginning of the 19th century when the area was a renowned army camp during the time of the Seminole Wars. Since that period, the area has drastically changed, but the history is still intriguing and integral to how Fort Walton Beach has developed throughout time. Those with a passion for the stories of the past won't want to miss out on the opportunity to visit the Air Force Armament Museum while they're here. The museum is dedicated to the rich history that's made up the story of Fort Walton Beach with an emphasis on the Air Force. The museum hosts a collection of over 29 aircraft that are on display as well as exhibits that encourage interactive learning and galleries packed with weaponry from World War I up through the present-day. The museum is located at 100 Museum Drive and is open Monday through Saturday from 9:30 am until 4:30 pm.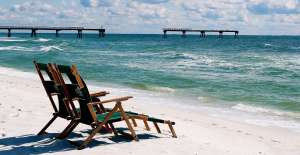 BOTE Fort Walton Beach
Soaking up the beauty of the waters that make up the Fort Walton Beach area from a vantage point on the sand is expected, but when you're looking for an experience that's truly unique on the waves, head over to BOTE Fort Walton Beach. Located at 158 Miracle Strip Parkway SE, this outdoor sports store is a locally loved hot spot for renting paddleboards, kayaks and much more. Get expert advice at BOTE on everything from how to best transport boats to how to enjoy SUP yoga in the area. BOTE Fort Walton Beach also hosts demo days every Tuesday at 5:00 pm between March and October. Regular business hours at BOTE are Monday through Saturday from 10:00 am until 6:00 pm and Sundays 11:00 am until 5:00 pm.
De France Antiques and Flea Market
Visitors to Fort Walton Beach who just can't get enough of unique and local souvenirs will be thrilled with a stop at De France Antiques and Flea Market during a stay. This vintage store features everything from Shabby Chic collectibles to furniture, jewelry, home decor and more! Hosting over 13,000 square feet of space to explore, a quick stop at De France Antiques and Flea Market is likely to turn into an entire afternoon of fun. This antique store is located at 230 Eglin Parkway SE and is open from 9:00 am until 6:00 pm Monday through Saturday as well as 10:00 am until 5:00 pm on Sundays. This location has the distinct honor of being one of the largest of its kind along the entire Florida panhandle.
Wave Runner Dolphin Tour
Getting off-the-beaten-path in Fort Walton Beach often means finding unique ways to approach the water and the creatures that call the waves home. When you're ready to experience an incredible and up-close encounter with dolphins, but would prefer a non-traditional style, book a wave runner dolphin tour with the team at Power Up Watersports. Starting at $110 per person, this wave runner tour lasts about an hour and a half and allows guests to follow their guide by wave runner out to places where dolphins congregate. Along the way, your guide offers up insightful information about these creatures and their fragile environment as well as information about conservation efforts in the area.
Scream Machine
Adrenaline-pumping fun is the only expectation when you book a ride on the Scream Machine in Fort Walton Beach. Guests will hop on board a twin-engine jet boat for a 30-minute experience on the water that's sure to thrill. Far from a sightseeing tour, this ride is made to get the heart pounding as your skilled captain takes you on a ride that includes fishtails, nose dives, and breathtaking speed. All rides leave from 1318 Miracle Strip Parkway SE at Fudpucker's on the Island. This twin-engine can handle up to 22-passengers at a time and tickets begin at $39.95 per person.
Author Bio
Caitlyn Knuth is a travel writer whose own adventures have inspired her to write about everything from the most delicious cafés in Paris, France to the breathtaking salmon runs in Juneau, Alaska. Working in association with The Breakers of Fort Walton Beach, she enjoys writing and sharing about Fort Walton in the hope others will pack up and head out on Florida-bound adventures of their very own.