What is SEO? How does it work? Want to know some of the absolute basics of SEO? Well, read on. We have a ton of information that can help you out.
What is SEO?
SEO is the process of getting a website ranked in the search engine results for certain keywords relevant to that website. Ideally, a site would be ranked at the top, or at least within the first three results.
When done properly, SEO can deliver a nice stream of cheap, organic traffic to a website. It, honestly, is the most effective marketing technique there is when it is done properly.
How does SEO Work?
The way in which SEO works changes frequently. This is part of the reason as to why it is never recommended that you do SEO on your own.
No matter what happens, however, it pretty much all boils down to the fact that the search engines want to provide people with the most relevant search results. So, the search engines are looking for how relevant a website is in relation to selected keywords. The more relevant, the higher it will be in the searches.
The search engines will use a variety of different techniques to determine relevancy in searches. For example; they will look to see the type of content the site has, social media shares, and, perhaps most importantly, the number of links pointing back to a website. We can't tell you the exact signals that the search engines use to rank a website, mostly because they won't share that information (for obvious reasons), but as long as you make your site look popular online, then you are well on your way towards being successful with SEO.
What are the most common techniques for SEO?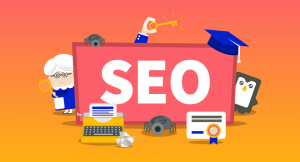 The bulk of your SEO journey will be focused on two things:
Building uplinks
Producing fantastic content
These are the absolute basics of SEO. Linkbuilding and quality content. If you do that right, then things become a whole lot easier. Of course, the links you do build need to be relevant to your niche (so your site looks relevant), and your site content needs to be descriptive of what you are offering (once again, so it looks relevant). When you are doing SEO, there won't be a single day that passes where you are not building up links or trying to create new content.
Of course, you will be doing other tasks on top of this. This includes optimizing site load times, working on social media, and competitor analysis. SEO for a site can quickly become a full-time job.
Look for an SEO Expert
If you are looking to boost the rankings of your own website, we wouldn't suggest that you dive in and try and do it yourself. While SEO basics are easy to learn you might want to hire a company such as https://dynamicsdigital.co.uk/, it is the more complicated technique that is going to catapult you to the top of the page for competitive keywords. For this, it is important that you work with