Redmi K20 Pro, The phone which was launched with so much hype that it felt like it's going to break the bar in terms of value for money which was earlier set by another sub-brand of its parent company, The phone mentioned here is Poco F1. Poco F1 had the best value for money ratio in terms of performance; however, it lacked the looks and didn't have good build quality under its sleeves. When 'Manu Kumar Jain' who is the 'Managing Director of Indian Subcontinent 'announced it over his twitter that Redmi K20 Pro would be entering Indian Market, Indian Xiaomi and other users who were holding out their purchase for this phone really rejoiced because this phone was expected to be an all-rounder beast at the same price as Poco F1, Which, It failed to Do.
Since the launch, Redmi K20 has been controversial in such a way that users are hoping that it would get the much-deserved price drop someday because of the 'Flagship Killer 2.0' and 'Believe the hype' marketing campaigns built up the expectations of people so much.
While this phone couldn't meet the expectations in terms of pricing, It surely did terrific at everything else.
The primary reason Redmi K20 Pro got the attention of so many people in India was because of its amazing specifications which are as follows-
As the Redmi K20 pro features the latest 2019 trend of Pop Up camera, It had the luxury to feature a big 6.39-inch AMOLED display to give your eyes a heavenly no bezel view with Body to Screen Ratio up to 91.9 percent to make your PUBG and Netflix experience on this phone is amazing. The panel is bright, and colors are accurately balanced with another 2019 trend of In-display Fingerprint scanner.
The company also kept in mind that they wanted this phone to stand out from its competition, which is Oneplus 7 and Asus 6Z by using a unique design they refer to as 'Aura Prime Design.'
Amoled screen features a resolution of 1,080 x 2,280 pixels with an aspect ratio of 19.5:9 with scratch-resistant Gorilla Glass 5 on Back and Front. Also, it features Widevine L1 as well.
The Beast Inside – What matters
The Redmi K20 Pro is powered by the Qualcomm Snapdragon 855 SoC which is currently the second-fastest consumer-grade processor available from Qualcomm after 855+, It has 8 CPU cores and comes with 6GB or 8GB of Ram with 128GB or 256GB versions respectively which will work well with your PUBG Experience.
The Redmi K20 Pro has a mammoth of 4,000mAh battery & supports up to 27W fast charging even though it ships with 18W charger in the box with 27W Adapter to be available soon as per Xiaomi.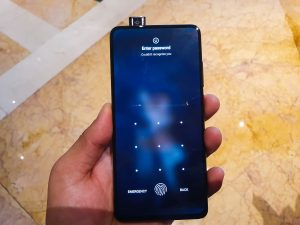 Camera to capture stories
The Redmi K20 Pro has a triple camera setup at the back. The primary camera features a 48-megapixel Sony IMX586 sensor with an f/1.75 aperture, and 1.6-micron pixels.. 3rd camera of K20 Pro is an 8-megapixel unit with a 2x optical telephoto lens and f/2.4 aperture.
The photos that were taken with this camera feature the right amount of details during day time; however, photos do appear stretched in the end. The phone's focus is impressive as well because of it being fast while in night time grains were visible for photos taken during low light and night conditions.
Redmi K20 Pro Review verdict
 Redmi K20 pro tries to be an all-rounder while lacking some features like wireless charging and IP Rating, but it excels with fantastic design and specs. It features top of the line SOC 855 by Qualcomm with a fantastic AMOLED panel with Pop Camera and In-Display Scanner with 4,000Mhz battery which is enough to last you more than a day easily.
The Redmi K20 Pro is undoubtedly one of the most affordable phone to offer such a robust configuration even when compared with Oneplus 7 and ASUS 6Z which makes it one of the best value of money phones even when. 
If You Need to Know More About Smartphones Please check this article: "https://itsmyownway.com/best-phones-between-rs-15000-to-rupees-20000-in-india/"