Believe it or not, Patiala Salwars was originally a part of men's clothing, specifically of the King of Patiala, back in the 17th century. The dress slowly gave rise to the conventional 'Pathani Suit', which has recently evolved into the much-loved Patiala Salwar that we know today.
There are numerous aspects that make it a better choice of clothing, especially in the hot weather in India. Apart from being comfortable, it is one of the most diversely-used and multi-purpose items of clothing in India today.
Contemporary designs and colorful patterns have made it a must-have in every woman's wardrobe.
What makes Patiala Salwar so great?
These are the highlighting features that make it such a popular choice of clothing among women of all ages in India. You can check out the latest Patiala collection online.
Colorful Choices
Patiala Salwars are available in a multitude of choices. There is a vast selection of tints, shades, and colors available in the market today. This is excellent for matching or contrasting with any top of your choice. Apart from solid colors, you can find numerous patterns and designs as well as a combination of different colors in beautiful Salwars.
Cozy & Comfortable
Ladies who wear Salwars swear by the immense level of comfort these provide. When you choose good quality Salwars, these come in high-grade, pure cotton and are lightweight and very gentle on the skin, which makes them extremely comfortable to wear even in the heat of summer. The rich texture and design on the outside hide a luxuriously comfortable feeling on the inside.
Firm Fit
These Salwars normally come in a regular fit that suits all. This allows buyers to match the salwars with a larger range of tops and accessories.
Why add Patiala Salwars to Your Wardrobe?
These Salwars scores are high on the comfort scale and higher on the style meter. You will be amazed at the diverse uses that a great pair of Salwars can come in.
Check out the top reasons that make Patiala Salwar Suit an essential part of any fashionable lady's outfit selection: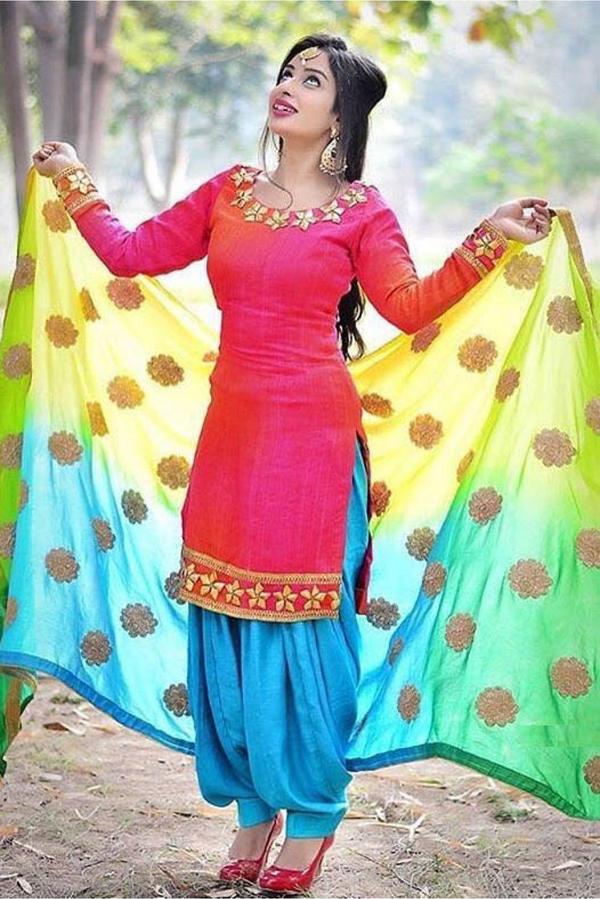 Incredible for that First Impression
Meeting your potential life-partner for the first time? Going out on a date with the new guy? Or are the in-laws coming over for a few days? Well, the Salwar is suited for every situation. Wear a simple matching Salwar to the embroidered Kurti of your choice and be prepared to make a wonderful and lasting first impression on the people who matter the most.
Looking Hot when just Hanging Out
Going for a day out with the girls is fun, and becomes even great when you are comfortable with a contrasting, light-colored outfit. The colors will be engaging and keep you comfortable to enjoy every moment with your BFFs.
Fun at Family Functions
Are you still wondering what to wear at the family get-together this summer? Or is there a wedding in the family and you don't want to sweat and steam in a thick sari or dress? Then why not go for a colorful and fitting Salwar. Choose contrasting colors for the Salwar and the Kurti to match your mood.
Fashionable at Festive Occasions
Too many festive occasions have gone where you must have worn a heavy sari and spent half the time adjusting and fidgeting. Choose a Patiala Suit for the next festival. This cross-cultural clothing has become a fashionable and impressive fashion statement all over the country and across the borders too.
Wonderful for Work
Who says you need to always dress up in the drab colored pants to work. Why not choose a Patiala Salwar to dress for work tomorrow? This is an impressive way to make a fashion statement in a subtle and meaningful way. The ethnic charm will impress colleagues and clients alike.
These were all the reasons why one should own a Patiala Salwar. To know more about the elegant designs for the perfect desi look, click here.