Glass coffee tables are becoming popular among homeowners because of the transformation they give to home interiors. They are considered to be the best additions to a home that can help in making a room look bigger than it actually is. Many designs of glass coffee tables exist in the market today and they can be customized to suit one's personal needs. Buying stylish and trendy glass coffee tables can be the best decision you make this summer if you are looking forward to upgrading the look of your home or office interior. When buying a glass coffee table, there are factors such as the shape, size, and design that you ought to consider. The shape of a glass coffee table that you buy is majorly dependent on the amount of space that you have. Buying a round glass table for a small apartment would be most preferred since it is ergonomic. Usually, there are additional features that can be included in a glass coffee table to make them more stylish and modern. For instance, you can have a nested glass coffee table that can be used when there are visitors in your home or office. This article is informative about the various coffee table designs that you can add to your home. Also, it includes a discussion of various features that can be included with the tables to make them elegant and classy.
The Noguchi Glass Coffee Table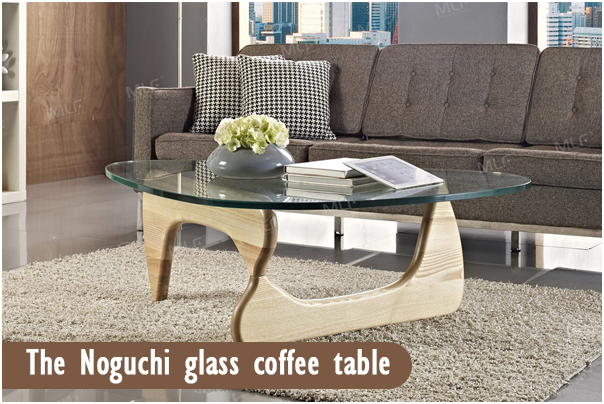 The Noguchi glass coffee table is one of the most elegant and classy designs that can be added to both offices and homes. The design incorporates glass and wood together which makes it unique and attractive. These glass tables can be placed in a living room or reception area to make a statement. The interesting thing about this table is the architecture of the wooden base. The base is curved artistically which makes it a popular choice for many modern homeowners. Usually, the glass top is made from clear glass so that the base can be visible to people using them. When buying a Noguchi glass table that is rounded, you can customize the color of the wooden base by painting it. This is done when you need to make it match the theme of your home. This is one of the ideas of the latest glass tables
Buying a Glass Coffee Table with LED Lighting
There are many designs of coffee tables that you can choose from but this one with a base made of plastic can be a great one to make your space look classy and elegant. The table has a glass top and a base that is in the shape of a cone. The plastic base which is cone-shaped is installed with LED lights inside so that it looks elegant and attractive. The colors of the LED are variant and may be customized depending on the personal needs of a homeowner. Usually, when the LED is switched on, they make the table look attractive and elegant. They are mostly installed in spaces that the homeowners need to look bright. They can also be used outdoors when the tabletop is made using hardened glass.
Adding a Glass Coffee Table with Drawers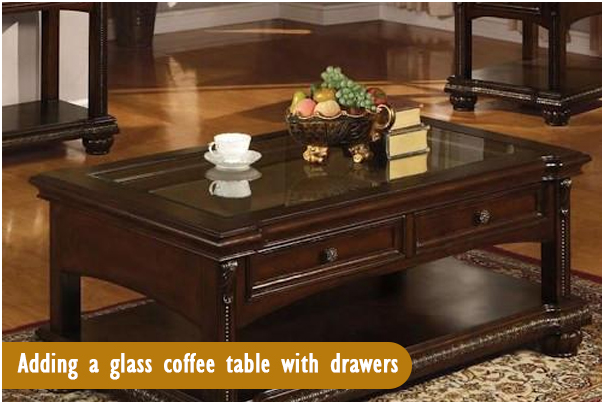 Drawers are unique features that can be added to coffee tables to improve convenience when using them. The convenience comes in handy when you need to put away your electronic gadgets. For instance, when you are having coffee on the table and you need to safeguard your phone in case of any spillage you can put it in the drawers. The drawers can either be made from wood or glass. However, glass is more preferred since it is classy and elegant. If you are in need of keeping up the look of your interior décor by using glass, then this is a great choice for a modern home.
A cubic glass Coffee Table for the Living Room and Patio
A cubic glass coffee table can really make your living room elegant and classy. Most of them are made using mirrors on the sides and a glass top for the upper part. The coffee table is suitable for both the interior and patio. The amazing thing about this design is that the mirrors on the side reflect the things around it. Also, it makes space look bigger than it is. For individuals looking for modern ideas that transform a home from being boring to classy and elegant, you should go for the cube design.
Placing Himalayan Salt Lamps on the Glass Coffee Table
Himalayan salt lamps are known to deodorize the air around where they are placed. Placing a Himalayan salt lamp on a glass coffee table can help to improve the outlook of your interior décor. Usually, the Himalayan salt lamp makes the room have an attractive fragrance that is more comfortable at all times. When you add a colored Himalayan salt lamp, the living room will look modernized and also eye-catching.
A Glass Coffee Table with a Mirror Centerpiece is Amazing for Interior Decor
Centerpieces are placed on glass coffee tables so that they can make them look attractive and unique. Most of the centerpieces are made of mirrors such that they reflect on the ceiling and anything that is placed on them. The mirrors are of high quality with a high reflective index. Ideally, the size of the centerpiece should be small to fit at the center and not cover more than half the radius of the glass coffee table. This design is most popular for the glass coffee tables used for events whether indoors or outdoors.
In conclusion, decorating home interiors with glass coffee tables is a trend that is more popular than traditional tables. The numerous designs can be selected to be used either indoors or outdoors. The choice of the design and the kind of centerpiece to be used is dependent on the choice of the homeowner at all times. If you have been looking for elegance and class, and also increase room look with glass table adding glass coffee tables that are unique will help you achieve this. For the new collection of coffee tables please visit Nathan James.