Offices and homes need to have outdoor seats that are comfortable to rest on. You need to set up a place where your family can gather and bond or a place where you can hold a relaxing client meeting area to escape the business environment in the office. Such places need seats that are comfortable, made of good fabric, and have an attractive design.
What is a Sectional Sofa?
A sectional sofa is a couch formed with many sections. The traditional or most common shape for sectional sofa is the L-shape with two to four sections. It's mostly made with different sections joined together at a 90-degree angle or greater.
These sections make it easier for homeowners to hide deck fasteners. Outdoor sectional sofas are made specifically for outdoor offices and living areas. Traditionally, outdoor sectional sofas were only found in the homesteads of rich people, luxury resorts, and restaurants. Today, they are now cheaper and more readily available.
Reasons Why You Should Get Sectional Sofas
Sectional sofas differ from ordinary sofas. Consider these qualities below of a sectional sofa if you haven't yet made up your mind whether to buy one or not.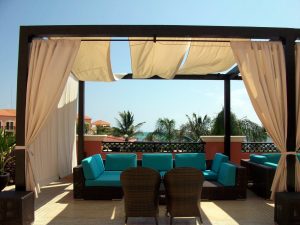 1. They are inexpensive
These seats are very affordable. You can even get them custom made by a local carpenter with a good eye and an excellent design in mind. If you would rather go for ones made by a well-known company, these seats are available in supermarkets and furniture shops everywhere.
 You can even order them online and get them delivered to you. With the new and modern designs, stylish lines, and attractive colors, these sectional sofas are available to decorate the outdoor of any homestead or business premise. These outdoor sectional sofas are designed to be comfortable with padded cushions and breathable fiber.
2. Perfect décor for your deck
Outdoor sectional sofas are perfect for decks, poolside, and patio. They create a resting mood for you and your guest, allowing them to sit back and be comfortable.
These sofas come in many pieces that you can rearrange to your liking and design. There are five, seven, twelve, and fifteen pieces that you can get depending on how big space is where you want the sofas to occupy. The possibility of the number of ways you can arrange them is endless.
3. Ease to clean and maintain
They are easy to clean and are made with fabric that is long-lasting. They can be cleaned effortlessly using a small vacuum cleaner. The deck fasteners will also be safer from the weather elements that cause damage and corrosion. They are made in designs and colors that are bound to fit your outside décor.
Conclusion
The material that makes these outdoor seats is rust-resistant and does not fade easily when exposed to extreme heat from the sun. Most outdoor seats are made of lightweight aluminum that will make the seats easy to move around. They also include nylon fasteners to keep your legs together.