As is the case with other conventional classroom furniture there is no doubt that technology has evolved, improved and moved forward. Hence today we have the concept of modular school furniture taking shape in schools. There are scores of schools which are following this technology as far as school furniture are concerned. However, it is still in its nascent stage and therefore the knowledge levels are still not as improved as it should be. Hence, the onus lies on end users to have some decent information and only then should they choose such modular furniture. We will try and have a look at a few important points which we are sure will be useful in more ways than one. We basically will be talking about the advantages of using such furniture and this we are sure will help the readers to know more about such furniture from the right perspective.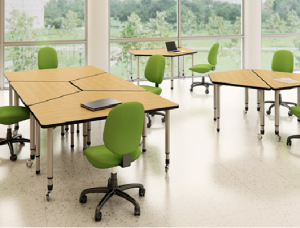 Easy Transportation & Handling
Since modular furniture or modern day innovative classroom furniture are lightweight and are made of molded plastic and other materials they are easy to port and move around. They compare much better to wooden furniture.  Though wood might look good, moving around is a big problem especially when students have different works to do apart from listening to the classroom teachings.
Easy Installation
Since they are molded and come in almost pre-fabricated and ready to use condition, it does not take too much of effort to set them up and make them ready for usage. In most cases, it would not require any fixtures and fittings. A few screws and nuts might have to be fixed and the molded furniture would be ready for usage. Further, they can also be easily customized and can be converted from a simple classroom chair to a laboratory chair of a library chair without having to spend a lot of time, money and effort.
Maintenance Is Easy
There is one more important reason as to why it makes sense to go in for molded furniture. They are made from materials that are tough and therefore maintenance is not a tough job as is the case with another type of conventional classroom furniture. They can easily be washed, wiped with a wet cloth and since they are corrosion and rust free it will not damage the furniture. However, care should be taken to ensure that the quality of screws, nuts, and bolt which are used must of good quality and should not rust or corrode.
Less Expensive
When compared to other types of conventional classroom office furniture there are reasons to believe that modular classroom furniture is less expensive. Wood, in particular, is extremely expensive and could also be bulky and heavy. They also need regular maintenance which again pushed up the cost significantly. On the other hand, molded school furniture is affordable and therefore offer good value for money. They are also ergonomic in their designs and at the end of the day, they do offer reasonably good value for money at all points of time.