What is the function of a polish rack? When do you need to purchase a rack? What are the benefits of investing in a nail polish rack? Are there factors that you need to consider to buy the best polish rack for your salon or home?
Polish rack
Nail polish should be stored in a dark, cool, and non-humid environment with a consistent temperature. Exposure to heat or direct sunlight causes discoloration and thickening of the polish. The nail polish should be kept at an upright position at all times. The polish rack is designed to help you organize, display and store nail polish. This rack improves the elegance of your salon or home. It is a nice way to show off your nail polish to your friends since they are neatly arranged. It is important to keep your nail polish in an orderly manner for quick retrieval when you need to find a specific manicure that you love. The rack should have an eye-catchy design, sturdy and durable.
Factors to consider before choosing a polish rack
1. The size of your nail polish collection
The polish rack should be big enough to hold all the nail polish in your collection. The number of nail polish it can carry and if you consider adding more.
2. The brands of nail polish you have
Each brand has a different size and shape of nail polish bottles. It is important to consider the height and width of the bottle before making a purchase.
3. Need for display
Some people may feel the need of showing off their collections while others would like to be private about it.
4. If the polishes need to be portable
If you apply nail polish in different locations, a wall rack is not advised for such a situation. An organizing case with a handle is good if you are in constant movement.
5. Your budget
Going for a low-priced rack can be tempting, but you might end up not getting a good quality product in the end. The rack should be affordable but of good quality.
6. Material used
The material used to make the rack should be strong and steady to ensure durability. Metal is preferred to wood since it's more resilient.
7. Ease of installation
It should be easy to install and light enough to be mounted on the wall.
Types of nail polish rack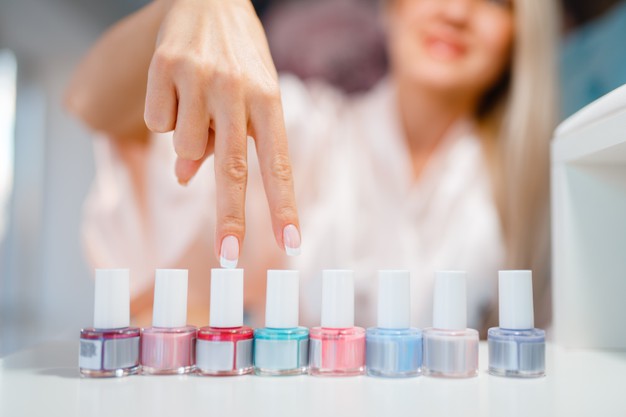 The several polish racks differ in size, material, placement, durability, color, and price.
1. Wall hanging racks
They are mounted on the wall and they greatly save space.
2. Counter racks
They are meant to sit at a table. They keep colors close to you but hold fewer polishes. This is a good choice for technicians at manicure stations to have preferred items close to them.
It is made from superior raw materials and is very rigid for long-lasting performance and stability. They are equipped with a compression load feature to withstand any weight you put.
1. Metal racks
They are sturdy, attractive, and durable.
2. Acrylic racks
They are clear, highlight the color of your nail polish and have a professional look. They are the lightest design compared to wood and metal. This property makes them good for hanging on the wall.
Benefits of using a nail polish rack
It helps you to keep stock of the polishes you have and what needs replacement.
It enables you to organize your nail polish in categories like color.
It displays all your polish making it quick for you to find any color you desire.
Tips to prevent nail polish from drying out
Whenever you are not using the brush, it is important to always close the cap tightly to prevent air from getting in. Nail polish is designed to dry when exposed to air.
Use a thinner to improve the consistency of a dried-up or thickened polish. Mix the thinner by gently rolling the bottle in your hands after adding drops until consistency is achieved. Using nail polish remover for thinning the polish restores its liquidity state to the point where it doesn't stick to the nails anymore.
Agitate the nail polish bottle to prevent the polish from drying out and setting. Be gentle since shaking creates bubbles that will be a problem in the next manicure.
Keep the outer rim of the bottle clean to avoid compromising the seal.
Conclusion
Maintaining a large nail polish collection for professional use can be hectic if not well organized. To improve your nail painting experience, you should purchase a polish rack. This also helps your clients to quickly notice the design they love allowing you to fit more clients into your schedule. To choose the right polish rack for your salon or home, there are some factors that you should consider. Polish rack has several benefits and it is a must-have for professional use to save space.