The fashion evolution has sidelined the black suit and tie system for your office to introduce a broad and versatile option pool. The last couple of years have seen new additions to men's wardrobe, which is classy, elegant, and work-appropriate. They blend the professional attire for office wear with some casual styles to ensure you always look chic and comfortable. These styles are an essential reason to experiment a little out of the book, for office wear, as the new styles give a rather easy look to pull off and look more creative. They make working all day in the office look effortless and comfortable in any setting.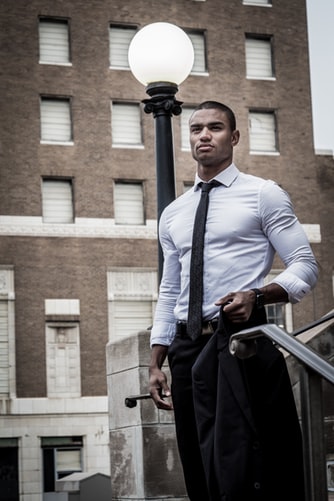 Hitting the perfect ratio of business and casual ensures you build a look that copes with the office dress code but at the same time reflects your style. While we do not suggest you walk in with baggy trousers and unfitted shirts, dressing up in suspenders, suits, a tie is also not necessary. So, here are a few styles for men's office wear that will help you build a business casual wardrobe with ease.
1. Adding the appropriate accessory: 
Accessories are an essential part of business casuals. You can start with basic elements like scarves, glasses, watches, You can start with basic elements like scarves, glasses, luxury watches like Bell and Ross, and use these to bring style to your outfit. Pair an elegant blazer – jeans look with a solid pair of watches and shades. You can also play around with a woolen scarf to structure a great look.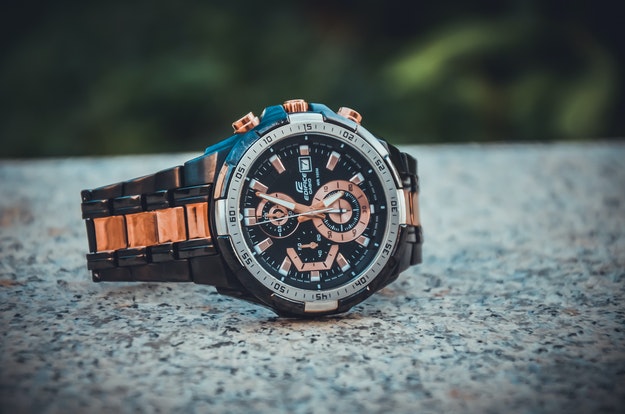 Eventually, your experiment needs to leave your comfort zone. You can look into accessories like leather folio for some elegant wristwatches, beaded bracelets for men, complementary ties with patterns or textures, solid leather belts to embrace the office casuals in style. Beaded bracelets and watch to match a solid grandfather collar shirt and chino is a good creation. The cardigan- shirt look with a bow tie is a unique combination to try. Using such fun additions to your wardrobe, you can master the art of trendy work dressing. 
2. Keeping it classic:
If you want a transition from formal business attire to business casual, then you need to start creating your looks with simple elements from your wardrobe. You can experiment a little with the pieces that you are comfortable flaunting and match them together to create a unique style. For example, the single-breasted suits have lasted in office wear for so many decades for the simple reason that you can never go wrong in the look. Now try working around the elements of the suit such as the vest with knits combination for stylish workwear. Knits add elegance to your outfit effortlessly. Try to bring more color to your office wardrobe using this element.
There are multiple ways of flaunting your gorgeous sweaters. Work with colors such as salmon, mauve, mustard, moss green, sea green for your knits. Add a vest in contrasting colors to your knits. Pair with traditional suit trousers to complete the look. Additionally, you can also use a clean-look pair of denim to go with this look. Turtle necks will be a great asset to your closet to create this kind of look.
3. Try the chino look:
Chinos are the perfect blend of formal trousers with a casual style. It is hard to pull off a business casual look with jeans which is why styles like chinos look more appropriate. The right fit makes sure your trousers don't look too baggy or too fitted. Make sure the chino does not crease around the ankle and try styles like no-break or half-break.
Creating the perfect chino look for your everyday workwear is easy. But you can also create looks that set you apart from the crowd using this versatile piece. Look for V-Neck sweater or crew neck jumpers to pair with solid colored chinos. Add a leather jacket, preferably in black, to complete this look. The chino and jumper pair are quite formal, whereas the jacket will flash the look with some style. Alternatively, you can add a neck scarf instead of a jacket. Always start with neutral colors such as grey, navy blue, khaki, or camel for your chinos before you get experimental with colors like dark green, brown.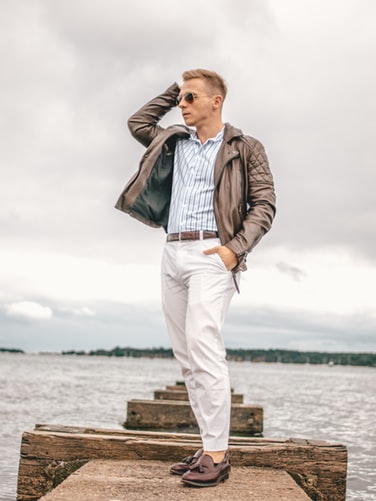 4. Gather them grandfather collars:
Blazers and suit jackets have become vital components of both casual as well as formal wear. Giving it a fresh pair of bottom and top wear choices can help create exciting looks. Grandfather collars are a great option to experiment with these looks. The collars are small, and the look is a blend of class and style. When paired with blazers, these elements make the perfect combination to carry for work. Blazers and suit jackets can become an essential part of a business wardrobe for any season.
Start with the right fit of the blazer to make sure it's snug near the shoulders and is slim to embrace the flow of your body. Now pick a solid colored grandfather collared shirt to match your blazer. You can go with neutral colors and tones such as navy blue, black, grey that go with most of your outfits or slightly out of the way to experiment with bold color choices like burgundy, green to stand out. You can pair these with formal trousers or chinos to add an effortless casual look to your wardrobe.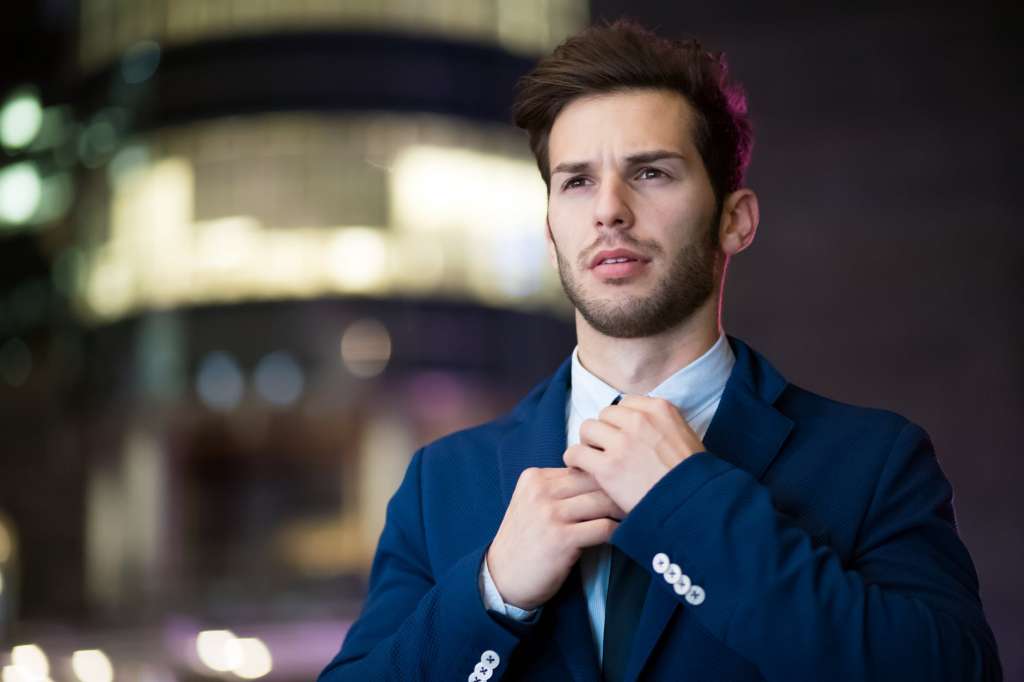 5. The various ways to carry denim for office wear:
Well, I am sure most of us don't believe denim to be office appropriate. But denim is a wardrobe staple, that when paired well can be a great addition to your workwear. While solid colors and styles are preferred, you can look into the stonewash style without too much contrast to add to your office wear collection. You can introduce denim through jeans as well as jackets, and both of these can create fresh new looks for your workwear.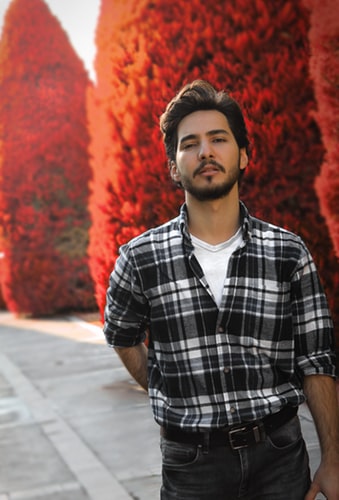 The denim jacket look is a classy and stylish outfit idea. Use a pair of dark solid colored shirts and formal pants to match the shirt. Add the denim jacket to complete the look. You can also try creating this look using solid T-Shirts for casual wear days. If you wish to create an outfit with your jeans, then match them with solid colored shirts, patterned shirts, or polo t-Shirts, and add a blazer or jacket to the top. A rather formal way of flaunting your jeans is using the jeans and vest look. Go for cheerful colors like blue, grey for your jeans as well as your vest to make sure it doesn't look too distracting. You can also go for a pattern on your jacket or some stonewash design on your jeans. Use a solid T-shirt, shirt, or knit to complete this fantastic look. These are good office wear choices for a perfect ratio of class and style.
Author Bio:
These styles cover the office wear wardrobe that will create a suitable look to carry every day. Stick to these styles initially before you can bring in new elements and experiment with different styles. These outfits will impress all the right people and keep you relevant to the current trends.