Rubbish removal can be inconvenient and daunting work for many homeowners, but it isn't an excuse not to properly dispose of your trash. As a homeowner, it's one of your primary responsibilities to maintain your household and community's health standards, and getting rid of your rubbish the right way is one of them. You can take professional help in this regard by visiting https://www.zerowastegroup.co.uk/birmingham-rubbish-removal if you live in the UK.
If it's that time of the year again for general home cleaning, don't fret because you don't need to do all the garbage disposal by yourself. Rubbish removal experts will be more than happy to assist you. Visit this page if you want to score the most affordable rubbish removal service that accepts all types of waste.
Before the professionals arrive, take note of the following tips for a smooth and worry-free rubbish removal process: 
Ask For A Quote And Discuss Additional Costs 
Throwing away unnecessary items is more challenging than you might think. For instance, you can't simply dispose of your old computer and wait for the garbage truck to pick it up. Safe and efficient rubbish removal isn't free, as trained workers, dumping fees, and recycling costs come into the picture. 
Before hiring any rubbish removal service provider, it doesn't hurt to conduct a thorough research about the company's services and pricing. Many companies also offer free service quotes to estimate your rubbish removal costs, so make sure to take advantage of them. 
Junk removal services vary between USD$60 to USD$800 depending on the truckload for your items. Since rubbish removal involves throwing away large furniture and appliances, the costs may fluctuate. It's important to discuss this with your chosen company to avoid any further charges after the job's done. 
Learn The Art Of Segregation
Household clutter comes in various forms, so they'll have different methods of disposal. You should dispose of disintegrated wooden furniture differently from electronic waste like your old inkjet printer. During your general cleaning, it's crucial to learn how to properly separate and segregate your items. 
After all, waste segregation is required by law in different cities, but you shouldn't oblige simply because of the law. Doing this intentionally is beneficial for the environment, as effective waste segregation significantly reduces the amount of waste ending up in landfills. 
Moreover, properly sorting your clutter helps removal workers identify which items are potentially harmful. For example, if batteries are thrown inappropriately, toxic chemicals inside them like mercury, lead, and lithium will disintegrate and seep into the soil, water, and air. Putting the wrong things in your bin can put many lives in danger. 
Aside from following standard waste segregation rules, separating your clutter can also vary from household to household. Admit it—not all clutter should be thrown away! You can divide your clutter into the following groups:
Necessary Clutter: These are misplaced, useful household items that can still be organized and not thrown away.
Unnecessary Clutter: Many homeowners refuse to throw away items as they simply believe these belongings might serve a purpose someday. By storing too much unnecessary clutter in your home, you'll eventually find yourself having excessive amounts of clutter.
Sentimental Clutter: These are items that are most difficult to categorize and discard. It's essential to identify which items are precious and which items can be let go of. If you're struggling to part ways with your sentimental items, you can take a picture of them for posterity's sake.
Look Into Recycling, Donating, And Reselling Your Items
When cleaning your home, it's paramount to look at every nook and cranny to classify all your possessions and even find another purpose for them. Not all clutter should be thrown away. If you happen to see the following items, keep in mind that there are various ways to recycle, donate, or even resell them:
Batteries

Books and toys

Clothes

CDs and DVDs 

Lights 

Computers and electronics

Glasses and eyewear

Furniture 

Tires

Paper

Cardboard, plastic, aluminum, and glass scraps
Before throwing out any item, imagine how they can build up in landfills so you'll think twice when getting rid of them. These items can find a new purpose, home, and owner if you're willing to help them look for one.
Inform Your Removal Experts About Your Rubbish
Since rubbish removal workers will do most of the disposal work, they should know every individual item to be thrown away. Days before the scheduled removal day, it would be better to start sorting out your clutter and listing them down. 
Once you're ready to throw them away, send the list to the rubbish removal company. By informing them of items to be disposed of, they can conduct better preparation, including bringing any necessary equipment, employing the best workers to work on a specific item, and more. Also, having a complete list will ensure that the pros won't leave anything behind. 
Why Call Rubbish Removal Experts? Can't I Do It Myself?
Junk removal experts are excellent at dealing with your household waste, but is it really necessary to hire one? If you're still hesitant to seek help from rubbish removal experts, take a look at some advantages that you can achieve by finding the best professionals: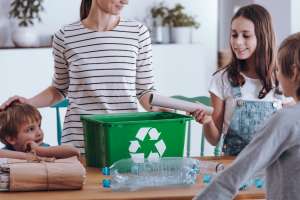 Eliminate health and safety risks

It's highly convenient 

They have experience and have reliable performance

Environment-friendly 

Cost-effective in the long run
Compared to state waste management contractors, rubbish removal services aren't for free, but you'll get expert service that's worth the expense. If you don't know how much to tip them, consider the difficulty of collecting your items and reward them for their corresponding work. 
If you're still unconvinced and are planning to do all the work yourself, you should recognize the demands and difficulties of throwing away your items. With numerous risks associated with managing and disposing of your clutter, follow these tips to protect yourself:
Only work within your limits

Take frequent breaks to rehydrate yourself

Warm-up before doing the heavy lifting

Wear comfortable clothes or personal protective equipment (PPE) if possible 
Take-Home Message
Your rubbish removal's success doesn't only rely on choosing the right company, as most of the effort should come from the homeowners themselves. If you plan to clean and organize your home, the first step is to eliminate all unnecessary clutter. To make the disposal as seamless and time-saving as possible, call your local rubbish removal service provider and take note of these tips in preparing your rubbish before removal.