Having to dispose of trash isn't always an easy task. It's intense physical work that can also be time-consuming, especially when you're planning to dispose of a lot of rubbish at the same time.
When getting rid of the trash, you must know how to do it properly. In the first instance, consider how much of it can be recycled, so that you won't be adding any additional waste to the landfill. Particularly for large tasks, it's always a smart idea to hire a rubbish removal company for your garbage needs.
Whether your needs are domestic or business-related, a rubbish removal company can make things a lot easier for your garbage disposal needs. They'll handle all of the tiring and dirty work, giving you more time for your other responsibilities.
If you're from Melbourne, you should check samedayrubbishremovalmelbourne.com.au for convenient and professional service. Before hiring a rubbish removal company, read these tip 5 tips to hire the best of the best:
1. Know the Company's Capabilities
If you're planning to hire a rubbish removal company for commercial reasons, you should consider the company's capacity, as businesses usually produce more rubbish than residential properties. Double-check if they'll be able to accommodate your company's trash input, especially if you own a large-scale business.
Along with their capabilities of handling trash, make sure that the rubbish removal company is legitimate, has performed a background check on all of their workers, and delivered proper training. The trash removal company should equip their trucks with dashboard driving cameras and reverse sensors to guarantee the safety and liability of their service throughout the removal process.
2. Check the Recycling Policy
A huge advantage of hiring a rubbish removal company is that they'll be able to recycle some of your trash. Environmental initiatives mean that most companies actively aim not to contribute excessive amounts to landfill.
Before hiring a rubbish removal company, check how they recycle or donate trash such as furniture and books. You can find that information on their website, or call them just to be sure.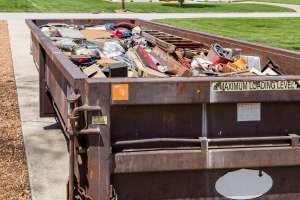 3. Consider the Price
An important factor when it comes to hiring a rubbish removal service is the price. You wouldn't want to pay a huge amount for minimal service. Don't hesitate to compare the prices of different companies as it'll help you get a great deal.
When checking for prices, make sure that the rubbish removal company is providing you with an excellent service for a great price. Some companies charge additional service fees or charges depending on the amount of trash you have. Make sure to take note of those as well, and confirm the total amount to be paid before confirming a booking.
4. Take Note of Customer Service
When a company is committed to delivering excellent customer service to their clients, you can be at ease knowing that your satisfaction is the company's number one priority. Before hiring a rubbish removal company, have a chat with them on the phone to confirm their service and ask any pertinent questions. In doing this, you'll be able to better understand their willingness to help and satisfy their customers.
If a company lacks customer service at the start, it's unlikely they will improve as the working relationship goes in. It might be difficult to report a complaint as the company will often ignore the report and not take appropriate action from it.
5. Read Reviews
Before hiring a rubbish removal company, it's essential that you read reviews online to shed some light on how they work. When reading reviews, you'll be able to stay away from companies that provide poor service. This will allow you to get the best from your money and put you at ease that you're hiring a great company.
Aside from reading reviews, you can always ask a family member, colleague, or friend for a recommendation to gather an honest assessment of the rubbish removal company that you're planning to hire.
Conclusion
Hiring a rubbish removal company doesn't just happen in a snap. You have to make sure that you're hiring the right company, as it can be a costly mistake if you get it wrong. Always take the time to look at online reviews to help you be sure that you're not wasting your money on a low service company.
After all, you hired a company to make rubbish disposal a lot easier! In taking a few simple steps, you can ensure you're getting the best of the best service for your home or company.