The minimalism trend is becoming incorporated into all aspects of life. From paring down possessions in the home to creating a capsule wardrobe, women all over the world are looking to make their day-to-day existence more streamlined.
It should come as no surprise, then, that this cultural trend has already made its way into the beauty industry, with minimalist manicures being one of the hottest trends for spring 2019.
If you are looking to give your nails a little TLC, read on to discover these top tips for rocking a minimalist manicure style this spring.
1. Gather inspiration
Before you enter a nail salon, you want to give yourself some time to gather research about the kind of minimalist manicure you would like to have on your fingers. Luckily, there is plenty of inspiration to be found on the Internet, making the most challenging part of actually choosing a design.
Minimalist nails are a hot trend all around the world, and the beauty of this style is that it can be adapted to everyone's personal style. Whether you opt for "negative space" nail art (graphic designs on a transparent background), only a colored line along your cuticles, a pale pink all-over color, or ocean-blue on the tips, you can find a design that is minimalist, fun, and in line with your attire.
For this reason, when getting a manicure in Dubai (or wherever you reside), choosing a simple, minimalist design ensures you are going to leave the nail salon with fingertips that are both practical and stylish.
2. Prep your nails
Whether you are at a salon or going the DIY method (although having nails done professionally is always the better choice!), before the painting can begin, you need to make sure that your nails are thoroughly prepped.
First things first: Remove any current nail polish that you have to remain on your nails. Then, make sure you have cut down or filed your nails to a comfortable nail length that isn't too long — no one enjoys having broken nails or a chipped manicure!
Once they are at your desired length, use a nail buffer to buff the tops and sides to produce a smooth surface. At this point, you also want to spend some time focused on your cuticles. Soften them with oil before pushing them back lightly with a cuticle stick. Next, use a hand scrub to exfoliate your hands, wrists, and forearms before washing, drying, and moisturizing your hands.
Now, you are ready to move on to the painting part!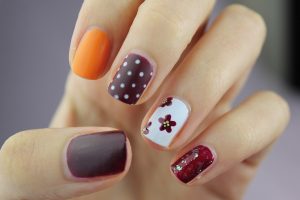 3. Only use high-quality products
There is a reason why the best nail salons in Dubai only use high-quality nail products and employ the best nail technicians — it makes a significant difference in how your manicure looks now as well as in a couple of weeks. For this reason, whenever you are getting a manicure, you want to ensure that the person doing it is highly skilled, and the products they are using are of the best quality.
This includes both the actual nail polish and the base and topcoat.
By painting your nails with nail polishes from brands with a fantastic reputation, you can be assured that your nails aren't going to be stained and damaged from the products. Unfortunately, this isn't necessarily the case with cheaper nail polishes.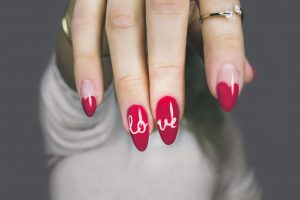 Your base and top coat are also crucial as the former will help you maintain healthy, strong nails, while the latter will make the polish last longer.
4. Look after your manicure
Now that you have a dreamy minimalist manicure, it is up to you to ensure that you look after it to make it last as long as possible. One of the best ways to do this is to continue applying a thin layer of topcoat every other day to help keep the polish looking glossy and to avoid chipping.
When your nails encounter water (such as when washing dishes), opt to wear gloves to decrease the likelihood that the polish will peel off. This is particularly crucial with a minimalist nail design: Every day, apply cuticle oil to your cuticles because when they are moisturized, your nails look healthier overall.
Are you thinking about going for a minimalist-style manicure this spring? Why or why not? Do you have any tips and tricks for making your manicure pop? Please share with us your experiences and suggestions in the comments below!
AUTHOR BIO
Hillary Kozma is the Owner/Managing Director/Creative Director of Kozma & Kozma Salon. Having built the foundation of her skills with an apprenticeship under a direct protege of Vidal Sassoon, Hillary, and her husband opened Glow American Salon in Qatar in 2007 before expanding to Dubai as Kozma & Kozma in 2016. Hillary is hailed by the media as a "pioneer in her field" for introducing new talents, concepts, philosophies, and techniques to the Middle East.