SSN, short-form Social Security Number, is a nine-digit series of numbers allotted to every US citizen, permanent resident, and those on temporary working visas living in the United States. At present, SSN is considered to be used as an identifier for everyone living in the US.
Some mobile wallets, such as PayPal may require you to link your SSN for security and privacy reasons. However, many users wish to remove this link. In this article, we will learn if it is possible to remove SSN from PayPal and how to do it.
Why do you need SSN for PayPal?
PayPal and other similar digital wallets require a user's SSN to verify their identity. Normally, PayPal requests sellers to add their SSN to their PayPal account. However, if you are only a buyer on PayPal you do not need to link your SSN to the app.
Hence, if you are a casual buyer on PayPal, make sure that you do not enter your SSN or even EIN on the app.
On the other hand, if you are a business owner and require collecting payments frequently from customers or to perform business transactions on PayPal, you will be asked to enter your SSN into the PayPal account.
How do I remove SSN from PayPal?
At times, people tend to create multiple accounts on PayPal. This is usually done by using fake names and phone numbers. To prevent fake accounts from being created, PayPal requires customers to enter their unique SSN when they sign up for the app.
Once you enter your SSN, then PayPal will not allow you to change it. This is a way to prevent abuse and scams on the app. Thus, with the help of SSN, PayPal can confirm a user's identity, verify it and make transactions effortlessly.
In short, it is impossible to remove SSN from PayPal manually once you have linked your social security number with your PayPal account. Even if you have a PayPal Personal account or PayPal Business account, the app does not allow you to make any changes to it and does not allow users to remove SSN from the PayPal account.
However, if you have a genuine reason to have your SSN removed from PayPal, then you can try contacting the PayPal Customer Support team and explain your reason. So, if you are only a casual buyer then you can write or email to PayPal support team stating the reason for removing the social security number linked to your PayPal account.
To do this, follow the below steps:
Open PayPal email support page on browser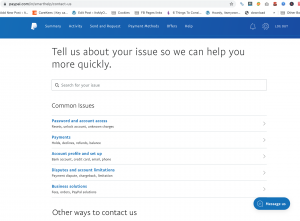 2. Select the appropriate options in the message section
3. Once the email template opens, enter the relevant details wherever asked
4. Simply hit on "Send Email" button in the bottom left corner once you have checked the email template
Conclusion
Experts suggest that it is absolutely safe to enter and link your SSN with a PayPal account. The app has multiple security levels in place to ensure that user's personally identifiable information and financial details are strictly kept private.