Writing is a skill that everyone can try out, but only a few can master. A big portion of the stuff that you read on the internet is a product of research and writing. If you can write and enjoy it, you should explore this skill further and use it for your living.
If you have the passion and interest in this field, you can easily create the content of various kinds and sell it. How will you monetize your writing? You can check out these tips and get started.
1. Start doing a Freelance Work
Freelance writing encompasses various forms. You can write different genres, such as product reviews, articles, blogs, news and journalism, ads, eBooks, and more. If you can work on different employers, you can do multiple gigs.
You may also do academic writings for students. They usually pay for essay, homework, thesis, or dissertation paperwork. What's the catch for this line of work? You can do it full time, part-time, or on a flexible schedule. Moreover, you may work at an office or home, depending on your employer.
As a freelancer, you should learn some tools that can help you with the content. For instance, you can use Grammarly, ginger, or smallseotools for grammar checking. You may also use these tools for plagiarism checking. Aside from this matter, you should also need to check the keywords and SEO. You may look for a site that offers free features to analyze your content for SEO purposes.
2. Set up and build your website
Blogging is another alternative way to make money online through writing. In this field, you can set up a free or premium website and create content based on your chosen niche. You may also need to search what subjects are the most searched topics in Google.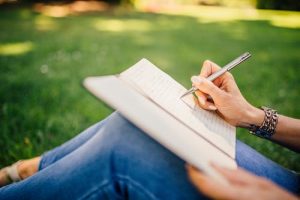 Owning a website has corresponding costs, especially if you subscribe to a premium website template or hosting. You need to pay for the domain name, SSL certificate, and hosting fee to help your website become visible online. Otherwise, if you stick on a free blog platform, you need to work on it intensively to make it visible to the public. For instance, you can post regularly on social media and share various topics from your site.
3. Write in Exchange for Cryptocurrencies
Did you know that cryptocurrencies are also popular gigs to earn money? Nowadays, some websites hire writing and blog services to earn these digital assets.
However, you should register first and join the community. Next, you may search on the popular topics to determine the volume of readers. After choosing the best niche, you may now start writing and sharing your thoughts with the public.
How can you earn from posting your articles? Well, the readers should share, like, or comment on your post. They also need to upvote your content so that you can start earning. Your articles must be valuable, convincing, and helpful to your readers. Once your contents start earning, you may convert the cryptocurrencies into real cash.
4. Create and Sell E-books
eBooks are a great source of income. You must come up with a topic or subject matter as well as chapters with subtopics. A typical digital book contains several pages and writings.
You can check the Amazon for the eBook requirements and maximum words to write. When it comes to its pricing, you will sell this e-book for a cheaper price to target a larger sales volume. Thereafter, you will receive some royalties for selling this digital material.
There are different genres to choose from and you need to work on the contents properly. If you can sell directly to customers, that would also be a great idea.
5. Write Novels
Novels can be fantasies or real-life based stories. Some of the best Hollywood films are also based on the novel books. You may also create novels in the form of an e-book. However, the trend nowadays is novel writing for apps. If you notice, there are several gaming novel apps in Android or iOS play store.
Some teens and other adults love to read these novels in their gadgets. They even purchase subscriptions or chapters to read the next sequence. Some companies are accepting writers for their novels and they will pay for their services. If you're a person who loves writing fantasies or novels, you may come up with your own story.