Cats are extremely fascinating animals and whilst they're cute and cuddly, they are extremely independent pets and there are certain things they need when living indoors to maintain a healthy, happy life. It's no secret that cats like to be on their own from time to time and things are often done on their terms, but they do require specific care and attention to keep them feeling their best. From the food they eat to having their own private space, here are a few top tips on how to keep your indoor cat happy and healthy.
Feed Them Properly
Just like any pet, cats require the right diet to keep them feeling themselves. All cats are different, so it's beneficial to do some research into which cat food is best for your feline friend. With so many amazing pet food brands on the market, offering nutritionally balanced yet delicious options for your cats, you'll be spoilt for choice. Take a look at online pet supplies retailer Petwell, as their large selection of cat food, will give you an idea as to exactly what's available and what might work best for your cat. If you're unsure on which food to go for, you can always consult your vet to double-check and get their expert opinion. It's important to feed your cat the right meals, so an expert opinion can always offer some peace of mind.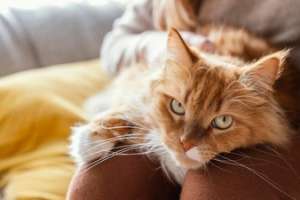 Keep Things Fun
Whilst cats love to sleep, they also love to play and run around to burn off some energy. You want to try and ensure your home is as fun and exciting for your cat as possible and there are many ways in which you can do this. From investing in some new toys for them to play with, covering everything from dangly feathers to toy mice that move across the floor, you can find all sorts of stimulating toys that will help to keep your cat entertained for hours. Similarly, there are some amazing puzzle toys that are designed to keep your cat's mind working, giving them plenty to be doing for a few hours at a time. Petstages are a great example of producers of puzzle toys for pets, with a great range of cat-friendly toys to choose from.
Privacy is Key
As mentioned above, cats are extremely private and independent animals and therefore it's important to provide them with space for them to enjoy on their own. If you give your cat the option, with a nice cosy space to find some peace and quiet, you'll find them much more relaxed and content. Having the ability to roam around and settle down wherever suits them best will really help them to stay calm and happy, if your cat feels confined or trapped, they may become distressed and unsettled which you don't want to happen.
Treat Them Well
Having a selection of tasty treats for your cat is always a good idea. From the Webbox Lick-e-Lix range to some delicious Dreamies treats, you can get some healthy yet tasty treats for your cat to enjoy, whether you're rewarding them for good behavior or simply treating them because you can. By giving your cat treats, you're able to build on your bond with them, showing them you care and love them, whilst giving them a tasty treat to enjoy at the same time.