As a parent, you are constantly thinking about what is best for your children. It is this that leads you to make controversial decisions as you are looking at the bigger picture and your children are generally not.
While some decisions are easy, others can be difficult to decide what is best. Fortunately, choosing when to take your child to the dentist doesn't need to be one of them.
The First Tooth
You can take a child to the dentist at any age, even if they don't have teeth yet! The purpose of this is to help them get accustomed to visiting the dentist. This should help to prevent them from having a dental phobia when they are older.
In case you are wondering, approximately one in ten children are affected by dental phobia, if you can prevent it you are saving yourself and your child a lot of hassle.
Although they are unlikely to have issues with their first tooth, the first dental appointment will allow your dentist to map their mouth and start monitoring the arrival of their teeth. This makes it much easier to spot any issues and correct them while they are young.
In other words, expect to take your child to the dentist by the time they are one year old.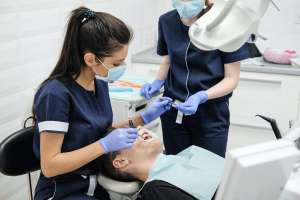 Choosing A Dentist
The key to choosing a dentist for your child is to select one that has experience with children, such as this dentist Five Dock. This will help to ensure that they put your child at ease and they don't develop a fear of the dentist.
To help in this process you can do the following:
One of the most difficult for any parent is to stay calm while their child is scared. However, you can prevent most of the fear of the dentist by being calm. This tells your child it is normal and not an issue, putting them at ease and making the process much simpler for everyone.
It is a good idea to chat with your child to help them be prepared for what they are about to face. The fact that they know what will happen and that you will be with them the entire time will make it easier to handle.
In fact, with the right preparation, your child may not be concerned about the visit at all.
Additional Benefits Of Seeing The Dentist Early
Alongside checking tooth development and mapping their jaw/mouth, a visit to the dentist will give you advice regarding bottle feeding, mouth and tooth cleaning, finger-sucking, and even the use of a dummy. Of course, any other concerns you have can also be discussed.
Understanding how these affect the development of your child and specifically their teeth will help you and your child to develop good oral hygiene habits from a young age.
This is one of the best gifts you can give them and all it takes is a little patience and guidance.
Read More: How To Care For Children's Teeth from Birth