Frustrated with strained tile grout that looks just dirty and horrible?
There are some easy ways you can clean any strained grouts with simple household products.
Learn how to Clean Stained Grout with our guide. If you ever felt like you need to know about cleaning stained grout here, you are in the right place.
How and what do you need to clean Stained and dirty Grouts?
Tiles are the best for getting a very regal and classy looking interior, especially in the bathroom and kitchen, but keeping the tiles clean is a big headache. Especially keeping the grout from getting strained and dirt is just impossible to do.
Let's see exactly how and what do you need.
The precaution
Start with the mildest cleaner first.  Apply a small drop to any area other than grout in the floor to make sure it's not too harsh and whether it will help you clean the grout.
Make a daily routine
If you do not already have a routine for cleaning your grout will surely get stained even after you clean it once in a while. We use the floor daily, so daily cleaning is needed as well. Just give the area a broom and wipe off any food droppings. A mixture of vinegar and water spray will keep the tiles and grout fresh and clean. It will clean up the mold and mildew away from your lovely home.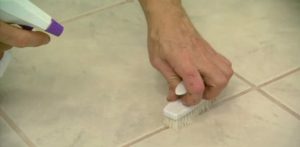 Natural ways to clean mildly strained grouts
Scrub it with brush and warm water
It is the most commonly known system for people who used to clean their grout. You will get a brush specialized for grout cleaning in a hardware store. Spray some warm water and brush away the stains. You may want to mop the area dry to avoid water stains.  If this looks like a tiring process to you, then get some best steam mop for tile floors and grout. It cleans the grout very quickly with its organic hot water cleaner.
Use a vinegar solution
Spray some mixture of vinegar and water solution to the stained area. If the stain is dry and a little old then vinegar is a good option. Leave the solution for five minutes and then scrub away the stain. A stiff brush is better for this kind of dry stains, so the stain vanishes.
Baking soda paste and vinegar
Sometimes our kitchen has stains that are just too persistent to cleaning. The stain that yellow food makes it looks disgusting. It hinders the look of your fancy bathroom as well. For eliminating this kind of bad stain make a paste of baking soda and water.  Apply the paste on the grout and spray vinegar mixture on it. When it stops foaming, give the area a good scrub with your grout cleaning brush. Then rinse it with plain water.
How to a more stronger and harder grout
Use hydrogen peroxide
If the stain is super old or not going quickly, then go for hydrogen peroxide. Go and check at your nearby drugstore for it. Apply it right on the stain or mix with baking soda. Follow all the other steps of brushing and cleaning.
Oxygen Bleach
Sometimes grouts get grimy and dirty. Stains can look dirty, and you won't be able to clean it easily. For this type of situation, get oxygen bleach to the rescue. Oxygen bleach is available in powdered form. When you clean the grout, make sure that there is enough ventilation in that area. Apply and leave it for 10 to 15 minutes. Do not forget to rinse after this time or the grim will settle down, and that stain is hard to remove.
Chlorine bleach
Chlorine bleach is a harsh cleanser, so use it in a limited amount and cautiously. Commercial cleaners also contain chlorine bleach so that you can use that as well. But before using that wash off all the traces of your previous attempts. When vinegar is mixed with chlorine bleach, it will emit toxic chlorine gas. Do not ever use chlorine on a routine basis as your grout will erode because of it. You can use once in a very long time for removing the worst stains.
Read More: https://itsmyownway.com/tips-on-how-to-spend-less-on-your-bathroom-remodel-project-infographic/