If you're sticking to a budget, it's good to know how much to reroof a house compared to roof replacement. This quick guide can help you figure things out.
Back in the day, roofs used to be made out of clay, thatch, and stone. Nowadays, we use other materials such as steel, wood, and aluminum.
As you can imagine, they're much more durable. With that said, they can still be damaged over time. After all, nothing is invincible.
Fortunately, there are ways to fix the problem. For instance, you can replace all the shingles. Alternatively, you can reroof your house.
Interested in doing the latter? Want to know how much to reroof a house? If so, you're on the right page. Keep reading for more information!
What is Reroofing?
Reroofing is the process of replacing or recovering an existing roof cover. More specifically, it involves layering a new set of shingles over a set of existing ones.
It's important to note, however, that it can only be done once. In other words, reproofing will not be an option if you already have two layers of roofing in place.
When Is It Time to Reroof?
Reproofing is a good option if your roof is nearing the end of its lifespan but it's still in relatively good shape aka there's no roof damage (e.g. no missing shingles, water damage, mildew growth, etc).
It's also a good choice if you're having the entire roof done. Why? If you're only doing a portion of the roof, reproofing can cause problems as that particular section will be thicker than the other areas.
Reroofing vs Roof Replacement
Keep in mind, however, that reroofing isn't always the answer. In some cases, you will need a roof replacement. For example, you won't be able to do it if there's more than one layer of shingles already in place, as mentioned earlier.
Not only that, but you'll need a replacement if there are suspected problems with the roof deck (e.g. rot beneath the shingles, large amounts of moss growth). That way, you'll be able to address everything instead of just covering them up.
While it may be more expensive, it'll be better for your roof in the long run.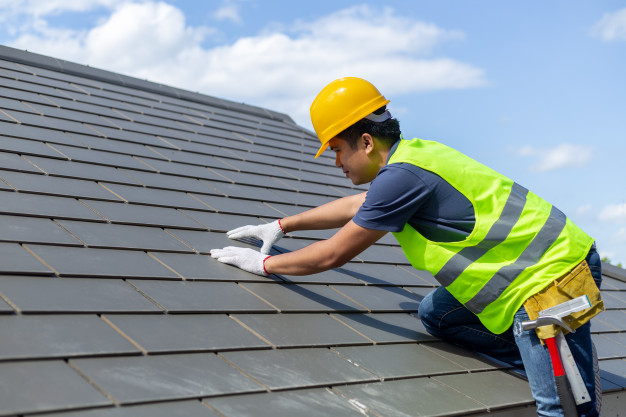 How Much to Reroof a House?
Reproofing is much more affordable than getting a roof replacement. After all, it doesn't require as much labor or materials. Not to mention that the process is much quicker.
With that said, it can still be an investment. For example, a basic asphalt single roof can cost around $5,000.
At the end of the day, the exact cost will depend on various factors such as where you live, job size, and materials. For example, it'll be more expensive to reroof a metal roof than an asphalt roof. If you have concerns about the condition of your roof and are looking for a quote in the Atlanta area, you can contact Team Roofing to start with a free roof inspection.
Reroofing Your House
Hopefully, that answers the question, "how much to reroof a house." As you can see, it depends on more than one factor. When in doubt, you can always ask for a quote!
Was this post helpful? If so, you might want to check out the rest of our site!