The truth is that there is no exact number of TikTok followers to get a verified badge, and the eligibility rules are yet to be set.
Does this mean you wouldn't get a verified tick having 100 000 followers, 50 000, or even 1 million?
After all, it must have been hard reaching a 100 000 followers milestone, right?
Keep reading to find out what is magic number of followers a creator is most likely to get verified on TikTok.
In this post we will mention TikTokers who have various numbers of followers and a verified badge, so you could learn from their examples and finally get a verified checkmark on TikTok.
What does verified mean on Tik Tok?
According to TikTok, verified accounts that have a blue checkmark on their profile have been officially confirmed to be legit and/or belong to a publicly known figure.
Verified badges on TikTok were originally introduced to let users quickly determine if a real celebrity or a fake one is claiming attention or expressing POV.
Once Musical.ly was shut down in 2018 and its audience moved to TikTok – creators first got a popular creator badge, which had a similar goal. Since then, though, they have been marking official accounts of social media influencers as verified.
Being verified on TikTok means more followers joining your camp and ultimately, sponsorship deals. As a way to capture new audiences, businesses are including Tik Tok into the marketing campaign plan with influencer money set aside. Not surprisingly, creators who proved to be verified often score the most lucrative deals.
How many followers are to be verified on TikTok?
As mentioned initially, there is no exact number of followers when you have to apply to get verified on TikTok. And no hard and fast rules to play by and get a blue tick on profile.
Yet, as from our inspection of multiple accounts at random who received verified checkmark TikTok, the average number to get a verified badge shouldn't be less than 100 000 profile followers. As with YouTube creator, @bomdialeo who managed to get verified on TikTok with just over 150k followers.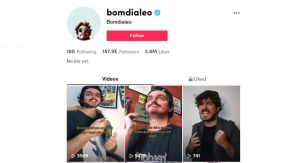 credit to @bomdialeo
If you think he is the only one who gets credited for his social media effort, you may want to check iGumdrop, a popular Twitch streamer and YouTuber with 300k+ fans on TikTok. Except for a few businesses getting a verified badge when barely reaching 800 followers and a few hundreds more, creators we have analyzed are known for music, arts, or fashion.
If you don't have enough followers to get your account verified, you can buy TikTok fans to save up more and get a desirable blue checkmark a little faster.
Another thing that stands out is that verified creators are not just Hollywood couples, super-rich business people, and politicians, but bloggers, writers, and social media influencers.
This disproves the common myth that only the rich and celebrities get verified by TikTok.
Although if you have built a business empire, collected Olympic gold, or at least filmed in a Hollywood movie it only is a plus.
How to get verified on TikTok business?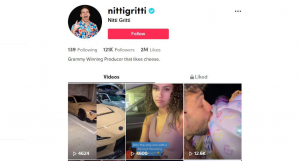 credit to @nittigritti
One of the ways how you can get verified on TikTok is to run a business account. As far as legitimacy is concerned, it is easier for businesses to get a verification badge than a person.
Does this mean being legit automatically makes you a verified creator?
Surely not. However as seen in profiles having a TikTok verified badge, they have things in common.
– Almost all of them have had quite a few videos going viral, a.k.a. getting featured on the For You page.
– Get through the back door – get verified on Facebook, Twitter, or Instagram. This not only boosts your popularity within the platform but also generates more engagement on TikTok.
– Spread the word about your business through press releases and interviews. The bigger the coverage, the more buzz it generates putting you under TikTok's radar.
– Stay in the loop: duet, upload, share, and take part in hashtag challenges.
If you are already following these tips or using the services that could get followers, you are not far from getting a verified badge on TikTok.
How to get verified on TikTok without followers?
With over 2.6 billion downloads worldwide and the app's growing popularity, almost every account will have a certain number of followers. Although sometimes this may not be enough for TikTok verification.
Can you buy a TikTok verified badge?
That's the ultimate question that a creator would ask. And really, how good would it be to get someone to do the job for you? You may have even seen the services offering verification badges for social media accounts like Facebook or Instagram.
Unlike other social media apps, when it comes to TikTok verification there is a high chance you won't get a verified badge since there are no eligibility guidelines or direct applications for getting verified. So, beware of scams.
If you are still wondering how to get verified on TikTok without spending a dime on followers, original content and online publicity would be the best approach.
There are quite a few examples of musicians who got a head start on Spotify or SoundCloud before turning to TikTok and quickly gained followers and got a TikTok verification badge. For example, both Nitti Gritti and Louren Babic have less than 250k followers but managed to get verified blue checkmark TikTok badges.
Isn't it time for you to try?
Read More: How do Business Owners use TikTok for their Brand Promotion?