By now, we all know what voice search is and what it is used for. It makes the search process easier.
Keeping the benefits of voice search in mind, wouldn't you want to add voice search capabilities to your WordPress site?
If your answer is yes, you are in the right place. In this brief guide, we will tell you how to add voice search in WordPress. By following our steps, you will be able to add voice search to your WordPress site within minutes.
How to add voice search in WordPress?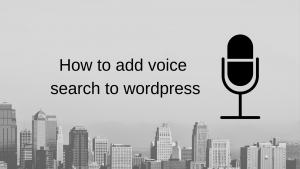 You will come across many guides on the net about adding voice search in WordPress or WordPress search bar not working. But we have tried to simplify the steps for easy understanding. Just follow all the steps correctly and you will be good to go.
Here you go with the details:
The first thing you need to do is find a voice search plugin and install it. After that, you need to activate the plugin to proceed. Search plugin there are a few good ones for example WP Fastest Site Search is a plugin that provides free voice search, once you find a good plugin like this install it.
Once you activate the plugin, you don't need to adjust any settings. It instantly starts working without any configuration.
Now go to the Appearance and then to the Widgetssection in the admin area.
The next thing you need to do is add the default WordPress search widget to a sidebar. If you already have a search widget, ignore this step.
Now go to your website and locate the microphone icon in the WordPress search box. Click on the displayed icon and you will get to see the text 'Start Talking.'
Voice search is successfully added to your WordPress. Now say the words and the system will search for them.
Well, that's all you have to do to add voice search to your WordPress website. By adding the voice search plugin, you can make the search process more convenient and easy.
Why should add voice search to your WordPress site?
Voice search is associated with a lot of benefits. To realize the benefits of voice search, you need to first understand the importance of search in website.
It is a useful option for people with disabilities. If they cannot use the keyboard to type, they can use the voice search to search using their speech.
It is also very useful for e-commerce websites. It allows potential customers to look for the items they want instantly. As a result, your business will get more conversion and sales.
According to experts, voice search has a significant impact on SEO (search engine optimization). Website owners use keywords to rank their websites higher. With Google's new Hummingbird update, you can expect to see big changes. This will influence search engines to evaluate a site based on contextual searches, instead of just keywords. This is why adding the voice search function to your website is a smart idea.
Voice search is the future of search engines. If you haven't included it on your website yet, you should do it now, keeping the future in mind. You can take the help of this guide to add it to your WordPress site.