Travelling as a family is a beautiful experience. It's a time for bonding, creating lasting memories, and exploring new horizons together. However, ensuring everyone stays connected during the journey can be a challenge, especially when crossing borders. Traditional SIM cards and roaming can be complicated and costly. This is where eSIMs step in as the perfect solution for family travel. In this blog, we'll delve into the advantages of using eSIMs to keep everyone connected and share the joy of the journey.
The Joy of Family Travel
Family vacations are a special time when parents and children alike can escape the daily routine and immerse themselves in new cultures and experiences. Whether you're exploring a vibrant city, relaxing on a beach, or hiking through nature, the shared adventures bring the family closer.
Connectivity Challenges:
While family travel is joyous, it does present some unique connectivity challenges:
1. Multiple Devices, Multiple SIMs:
In a family, each member likely has their own device. Managing different SIM cards for each person can be confusing and time-consuming, not to mention the risk of losing or damaging physical SIM cards.
2. International Roaming Costs:
Some families opt for international roaming with their home country's SIM cards. However, the exorbitant costs of data usage and phone calls can lead to unpleasant surprises when the bill arrives.
3. Data Sharing Limitations:
Data-sharing plans may seem like a solution, but they often come with limitations. For example, you might need to predict in advance how much data each family member will use, leading to overage charges or unused data.
eSIMs to the Rescue:
eSIMs offer the ideal solution for keeping the family connected during travel:
1. Centralized Control:
With eSIMs, you can manage the family's connectivity on a single device. This means there is no need to juggle multiple physical SIM cards, and you can ensure everyone has access to data and calls.
2. Cost-Effective Data:
Many eSIM providers offer competitive data packages suitable for family travel. These packages are often tailored for international travellers, making data usage cost-effective.
3. Data on the Go:
eSIMs provide the flexibility to add data as you go. This means you can top up your data if you're exploring a city with plenty of online resources like the United States; getting an eSIM United States makes total sense in such a scenario. You can also use it sparingly when you're in a remote area.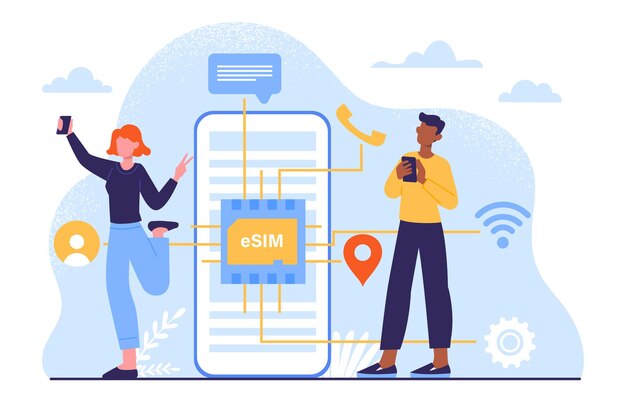 Safety and Peace of Mind:
For parents, ensuring the safety of their children during travel is paramount. eSIMs offer a sense of security by providing a way to stay in touch at all times. Whether your family members are exploring separately or together, you can easily reconnect through calls or messages.
Entertainment on the Go:
Family travel often involves long flights, train rides, or car trips. Keeping children entertained is essential for a peaceful trip. With eSIMs, you can stream movies, educational content, or games to keep everyone engaged during the journey.
Maximizing Multinational Adventures:
For families embarking on multinational adventures, eSIMs truly shine.
1. Seamless Network Switching:
Traveling from one country to another is hassle-free with eSIMs. They automatically connect to local networks as you cross borders, ensuring your family's devices are always online.
2. Flexible Data Packages:
eSIMs lets you choose data packages suitable for each country. This flexibility ensures you have access to the right amount of data to meet your family's needs, such as when in Canada, get Canada eSIM to get access to the network.
3. Remote Activation:
You can activate eSIMs remotely well before your journey begins. This means you can land at your first destination with connectivity already in place, allowing for immediate communication and navigation.
Quality Time with eSIMs
Family travel is about creating quality time together. Whether you're exploring the wonders of a new city, discovering the beauty of nature, or enjoying cultural experiences, eSIMs enhance your journey. They ensure that every member of the family can stay connected, entertained, and safe, making your travels truly memorable.
Conclusion: eSIMs Elevate Family Adventures
Family travel is an opportunity to bond, explore, and learn together. eSIMs make it easier for families to stay connected, ensuring that your adventures are seamless, cost-effective, and, most importantly, filled with joy. From entertainment on the go to safety and communication, eSIMs enhance the family travel experience, making it more convenient and memorable than ever.
Read More: Services You Should Expect From Your Corporate Travel Planner.