Canned goods appeared a long time ago, at the beginning of the 18th century, and were mainly designed for feeding soldiers. Tins were made by hands from rolled steel sheets that were coated with stannic and sealed up with stannic as well, but with the addition of plumbum. The resulting tare the size of a bucket was quite magnifical and of a heavyweight because of 3-5 mm thick sheets. It wasn't easy to take out the food that was inside, uncommon power and hammer with a chisel were required.
Automated production of canned goods from thin (less than 1 mm) steel was launched at the beginning of the 20th century, during the 1st World War. Advanced material and manufacturing processes allowed to make this food affordable for ordinary people.
Along with tin can modification, a device for its opening – can opener – changed as well. Using the first models required skills. As a rule, tare was opened right in the shop. With time, more simple and handy models appeared, which allowed to use them at home. Almost everyone now has manual openers.
But simple models still require skills and certain efforts. They also «tear» tin rim which you can hurt yourself with. Electric can opener that can be bought in appliance shops, doesn't have these disadvantages. It's easy and safe to handle.
Technical Peculiarities
Before buying an electric opener for canned goods, we recommend you to learn their existing modifications and how they differ from one another.
Types
Supply:
From mains

From batteries
With and without magnet cap holder.
All types have certain advantages and disadvantages. But their operation mode is pretty similar: tins are put in a special slot and button is pressed. The device circulates the tin and opens it in a few seconds, the size of tin doesn't matter. No teared rims. Simple. Quick. Easy.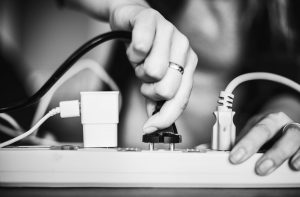 Desktop Electric Can Opener for Tin Cans
The advantages of such models are an additional built-in knife-sharpener and bottle opener.
The disadvantage is a necessity for a separate placeholder, which can be hard to find for a not-so-often-used device.
Let's see how this type of device is constructed on the example of Kenwood CO 600 electric can opener. This is one of the best electric can openers, according to this post. The base is a drive roller that presses and rotates tin along the seam. A knife that is located on the swinging lever goes down to the tin fixed by a drive roller and plunges into a cap. Construction with high speed and wide palm rest makes it possible to pierce the tin with a little effort. Reel spins the tin around, and motionless cutter opens up. When getting the desired result, the device turns off automatically.
You don't have to use your hands for holding anything. Everything is safely fixed with a magnet.
Electric can opener weight and size put some restrictions on the size of a tare that should be opened:
Height not higher than 7 inches

Weight

≤ 2.2 pounds
Manual Electric Can Opener
The advantages of such modification:
A small size that allows keeping the device on a shelf or in a cupboard

Low price (in comparison with the previous models), approximately — $15

You can take it when going on a picnic or camping, as it works on batteries
Disadvantage: when opening tin, the device should be held in hands (no need for holding the tin).
One-Touch Can Opener model is very popular – it suits tins of all sizes and has a magnet holder.
Mode of operation: put on the upper part of the tin and push the button. The device automatically clings to the tin's edge. Then it opens, and the device turns off automatically. User has to raise the electric can opener with the lid on.
Functionality
Electric can openers can be of two types. Specialized models perform a certain task, for example, open tin cans. Multi-functional models can open both bottles and tins, but they are not very handy and are usually used when going camping.
Specialized openers have different adjustments, designed for different diameters and the ability to adjust the working angle.
Set
The majority of modern devices have a magnet holder. It's a very convenient thing that prevents the lid from falling inside the tin.
An additional element of the construction is electrically-driven knife-sharpener. It's a handy thing for people who purchase the device for long-time use.
Some devices have a wine collar. It allows using electric can opener as a handy corkscrew.
Power
As a matter, this figure doesn't exceed 30-35 W, which is optimal for home use. But there are also more powerful devices, designed for bars, cafes, and restaurants, where tin cans are opened in large numbers.
Body Material
Two variants for choice are metal or plastic. The first one is more expensive, but metallic openers are more durable than plastic ones.
The most optimal choice is a stainless steel body. Frequent contact with liquids may provoke corrosion of the body, and stainless steel will prevent such a problem.
Also, pay attention to the main detail's material. It's highly preferable for the knife to be made of high-quality stainless steel.
An important detail for every desktop device is non-slippery rubber-treated legs.
Safety
The high-quality device has hidden legs, turns off automatically, and turns on at the touch of a lever/button.