If you are planning a home revamp this summer, we are coming to the end of the monsoon season here in Thailand and with cooler weather on the way, this is the ideal time to plan an interior makeover. It's always good to go for a complete color change, and with that in mind, here are some popular color combinations to consider.
Add to that an off-white cream for skirtings and architrave and you have an interior that is very easy on the eye. Using a natural color paint from a tried and trusted paint manufacturer gives you the quality you need and let's not forget textures to add depth and character.
Royal Blue, Gold & Salmon Pink –
The Art Deco look is loud and colorful and with a choice of matte or sheen finish, you can find a leading paint supplier online and take a look at their extensive pallet of colors.
Perfect for the quiet romantic, a balance of warmth and a rich glow, which is great for the master bedroom. Soft pinks and purples promote relaxation and the online paint supplier has literally millions of colors and can mix specific colors.
Light beige for timber architrave and skirting, this is a bright combination that is ideal for the living room. Search online for a leading paint supplier and take a look at the amazing range of shades they can produce. If you are planning to have a team of decorators carries out the painting, you can be sure of a great finish.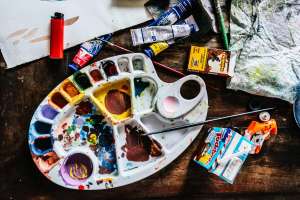 Perfect for a coastal property, teals & charcoals are soft on the eye and burnt amber is a great addition for timber work. If you would like to view a range of interiors, Google Images is your best friend. Once you find an image you like, send it to the decorator and go ahead and order the paint from the online supplier. Here are a few benefits you get when you carry out a DIY home improvement.
Soft, neutral colors are perfect for rest and relaxation; the guest bedroom is the right place for this Victorian style; antique furniture completes the look. There are so many shades of grey and the online paint supplier can mix precise shades of any color.
Perfect for the lounge or study, with neutral browns and beiges blended in. When you visit the paint supplier's website, you can create specific colors using their online paint-selection tool, which brings you a new level of shade selection.
All of the above are appealing color combinations that can be used to create a warm and inviting ambiance and if you would like to know more about your consumer rights in Thailand when you purchase products online, here is a link. Set the date for your project and prepare to transform your living space with the perfect color combination.