Millennials like to sport their own distinct style that doesn't depend on the latest fashion forecast or a short-lived fad. Not only this, most millennials are also conscious shoppers who prefer to spend their hard-earned money on buying clothing and accessories they'd love to wear rather than simply hoarding items that are on trend.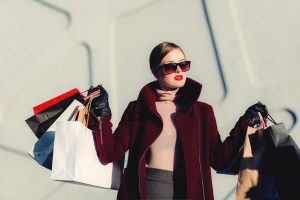 With the fashion industry introducing new styles every week, fashion is no more about spring, summer, and fall; rather, every fortnight sees new emerging trends vying for the attention of fashion-conscious men and women. In such times, it can be hard to stay fashionable and yet retain your own distinctive style.
Here are six tips to help you navigate the world of fast fashion with élan.
Invest in a trend that will last longer than your coffee
While you know the everlasting charm of a cold shoulder blouse, the same cannot be said for, say, a sequined dress. So learn to invest in statement pieces, such as a well-cut blazer or a designer white t-shirt, which you can team up with other clothing to create distinctive looks you'd love to flaunt.
While everyone loves to own the latest styles, choose carefully and buy pieces that you know you'll want to wear more than once.
Build a basic trend-proof collection
This may sound like something you've heard a thousand times before, but it really does start with the basics. A white shirt, a classic pair of blue jeans, a black dress, a black skirt, a pair of khaki shorts, lingerie for different outfits, a couple of stoles or scarves in lively colors—invest in high-quality and long-lasting basics to build a wardrobe that will always give you something to wear no matter what the occasion.
Once you have the basics right, feel free to give in to your fashion whims and fancies every once a while.
Don't buy something just because, and don't deprive yourself either
When buying clothing or a fashion accessory, ask yourself if it's worth the price you're paying for it. Will, it still appeals to you or look as awesome six months down the line? There's no point paying a bomb for a fluorescent green scarf or a pair of red heels if it's really not your style.
On the other hand, feel free to indulge yourself with statement pieces that don't cost a lot so it won't pinch you to give them away after a few uses. The idea is to strike a fine balance so that your wardrobe won't feel boring and nor will it overflow with impulsive buys worth hundreds of dollars.
Experiment with colors and change the way you match
Nothing refreshes a simple outfit than a pop of color in the form of a scarf, stole, a statement necklace, or a pair of shoes. Infuse color into your outfits by making small yet noticeable additions that won't put you out of your comfort zone but will infuse life into your forgotten pieces and plain clothing.  For instance, match a black dress with red shoes or a bright-colored scarf.
Trends may come and go, but the color never goes out of style. Moreover, adding a splash of color to your outfits will make you feel young and vibrant while still retaining your inherent personal taste.
See what your favorite social influencers are up to
Rather than blindly following celebrities and movie stars, see how your favorite influencer dresses and what you like about them. Influencers have a greater appeal for millennials as they don't seem as distant and larger-than-life as celebs, and fashion brands know this all too well.
This blog post at https://www.futuredesigngroup.com/blog/social-media-influencers-best-brand-ambassadors discusses in detail how social media influencers are turning out to be the greatest brand ambassadors of all time.
So take power dressing inspiration from your favorite CEO or let yourself get enamored by the chic, offbeat wardrobe of a wildlife photographer you admire—follow trends that you can relate to and you won't feel out-of-date or fashion-backward among your peers.
Flaunt your best features
Rather than hiding under layers of clothing, learn to flaunt your best features and buy clothing that accentuates your curves and makes you feel sexy, stylish and classy. There is no greater way to evolve your personal style than to acknowledge your shape and what works for it.
Embracing your frame and dressing accordingly is a foolproof trick to kick fashion fads in the back as you'll no longer feel the compulsive need to buy something just because it's in vogue.