Recent research from Indeed indicates employee burnout is on the rise, with 52% of workers considering themselves burnt out, up 9% from a survey conducted before COVID-19.
The impact of work burnout on employees' personal and professional lives presents a significant challenge for employers and organizations. To improve employees' well-being of employees; it is necessary to find a solution to the issue.
The World Health Organization (WHO) defines employee burnout as a syndrome caused by "chronic workplace stress that has not been successfully managed."
We have identified six practical ways to cope with work burnout.
1. Acknowledge that you have reached burnout
The first step to finding a solution to your situation is accepting that you are suffering from burnout.
The World Health Organization says the feeling of energy loss and fatigue, feeling disconnected from one's job or having a negative attitude towards one's career, and decreased productivity are the three main symptoms of work burnout.
Another critical indicator of burnout is not feeling rested even after a full night's sleep.
If you are feeling any of these symptoms, it is time for you to rethink your work-life balance.
2. Speak to your supervisor
Researchers have studied the impact of workplace stress on mortality and health costs in the United States and found that it accounts for over 120,000 deaths and nearly $190 billion in annual expenditures.
Don't hesitate to speak out if you have any of the signs discussed above. Talk with your supervisor or HR about your situation and ways they can work with you to manage the situation. Your supervisor might suggest you take some time off to give yourself a breather or other compromises.
3. Develop new workplace relationships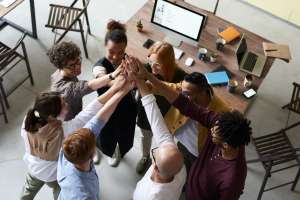 Put up a support system with your colleagues so they can draw inspiration from one another instead of tackling burnout on your own.
Need tips on how to start a dialogue? These articles address job burnout and other job-related issues.
You will feel energized, rejuvenated, and focused by surrounding yourself with positive people.
4. Take some time off
Taking some time off from the stress of your workplace may do the trick. Take some time off work to de-stress, focus on yourself, and rejuvenate your mind and body. Take a family holiday or spend more time with your kids. A vacation will refresh you for the whole year.
In a situation where you cannot take a long time off, take a long weekend to detach from work. People who take vacations are less stressed, at a lower risk of heart diseases, and are more motivated.
5. Exercise and get more sleep
Get more exercise by, for example, doing some gardening or playing tennis. Get more sleep by sleeping until eight hours, trying to catch up with your sleep deficit.
Sleep aids like naps help you wake up refreshed and energized.
6. Change of scenery
A change of scenery could be switching departments, taking on a new project at work, or as simple as re-arranging your desk or workspace. These minor changes can have a significant effect on helping you deal with work burnout.
If all fails, you may need to quit your job and seek a new challenge.
The dangers of work burnout make it impossible to ignore, and its impact on employees, employers, and businesses is significant. Hence, it is crucial to find a solution to employee burnout to prevent an even bigger crisis.