Have you ever moved home or office? If yes, I presume you know how hectic this can get. From acquiring packing supplies, hiring the best moving company, this can be daunting. However, with the many mover firms available, moving has never been easier. You can now enjoy stress-free relocation no matter the type of move.
Check out tips for planning a successful move:
1. List all moving tasks.
List down all you need to do. This will make it easy to remember everything and not forget essential tasks. For instance, if you have kids or pets, you'll have a lot to do and remember, and a list will come in handy. Begin with the essential chores and include deadlines against each.
2. Get rid of unwanted items.
Moving company Holland Movers advises clients to declutter before a move. This is a vital step that gets rid of the unwanted items, thus lowering moving expenses. After all, why pack those old beds, sofas, or clothes that you never use? Go through different rooms in your home and list all you don't need. Make piles of unwanted items and put them up for sale or donate.
3. Engage professional movers.
You may want to do everything by yourself since this seems cheaper. However, it will cost you a lot of money in the end. For instance, you risk breaking your valuables during the move, and replacing them can be costly. Again, packing and moving are time-consuming, and you can use the time to engage in other profitable tasks.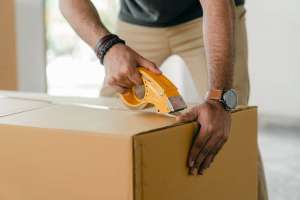 However, any professional moving company Amsterdam can save all the trouble. They use proper packing supplies and understand how to handle different appliances. This avoids damages and ensures a smooth move. If you haven't rented a new home yet, most movers offer storage facilities, allowing you time to search for your preferred home.
4. Have adequate packing supplies.
You require different packing supplies for the move. These include boxes, wrapping materials, and tapes. Order all that you need and only go for quality materials. For instance, a strong sealing tape helps close the boxes safely to avoid damages during transit. Also, acquire newspapers and bubble wraps to wrap your belongings and particularly fragile items.  If unsure of what to purchase, request the mover team to supply the required materials.
5. Get organized! 
Unpacking is a crucial part of moving, and how you organize your items matters a lot. Group your boxes depending on where you plan to put them in your new place. Group similar items together and have separate boxes for clothes, books, and CD collections. 
What's more, label all boxes for easy identification. For the most important things, keep them with you. These are things that you'll likely need on arrival and may include kid's clothes, jewelry, toiletries, and antiques.
The bottom line
Moving isn't as stressful as many people believe. You can have a hassle-free move only if you plan right. If you're preparing to move home, business, or office, hire a professional mover company and consider the tips mentioned above. By so doing, you'll avoid breakages, save time and money.